LAS Graduation 2016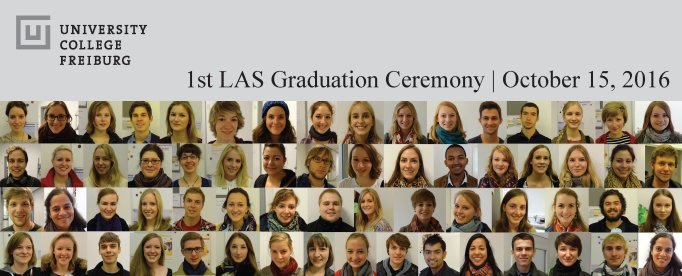 Since the establishment of University College Freiburg in 2012, we have developed together and as individuals, have progressed and taken detours. On October 15, 2016 we reached a new milestone: the first Liberal Arts and Sciences Graduation Ceremony.
In October 2012, 78 pioneer students started their LAS studies and from the beginning became part of the fascinating process of developing the College. They were – and are – curious, demanding, and engaged at UCF and beyond. In the past four years, they have learned about the foundations of knowledge, science, and academic inquiry. They have chosen their LAS Major, spent time abroad, and have now graduated and are ready for their next steps. From the beginning, we were convinced of our program and our students. Now, we and especially our graduates can be proud that this has been recognized by prestigious institutions all around the world.
On October 15, 2016, the University, UCF, students, graduates, families and friends came together to celebrate this occasion – a milestone for each student and for the College. The Badische Zeitung covered the event on October 17. And the current issue of the University Newspaper uni'leben features an article on the LAS program and its first graduates. Press information on the Graduation Ceremony is available at the University Press Department.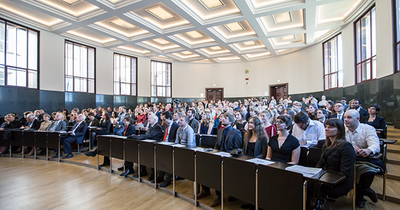 LAS Graduation Ceremony 2016 – Program
with
Dr. Ryan Plumley for the Major Culture and History
Dr. Simon Büchner for the Major Life Sciences
Dr. Sabine Sané for the Major Earth and Environmental Sciences
Dr. Liudmila Mikalayeva for the Major Governance
(all photos by Jörg Blum)
Over the course of the Ceremony and Reception, many words of gratitude were voiced. We would like to thank all who helped make this special day possible – a day that in our opinion perfectly reflects the spirit of work and play at University College Freiburg.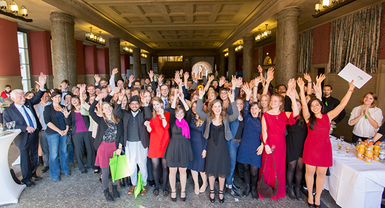 "The real University is a state of mind. It is that great heritage of rational thought that has been brought down to us through the centuries and which does not exist at any specific location. (...) The real University is nothing less than the continuing body of reason itself." Robert M. Pirsig, Zen and the Art of Motorcycle Maintenance