LAS Graduation 2017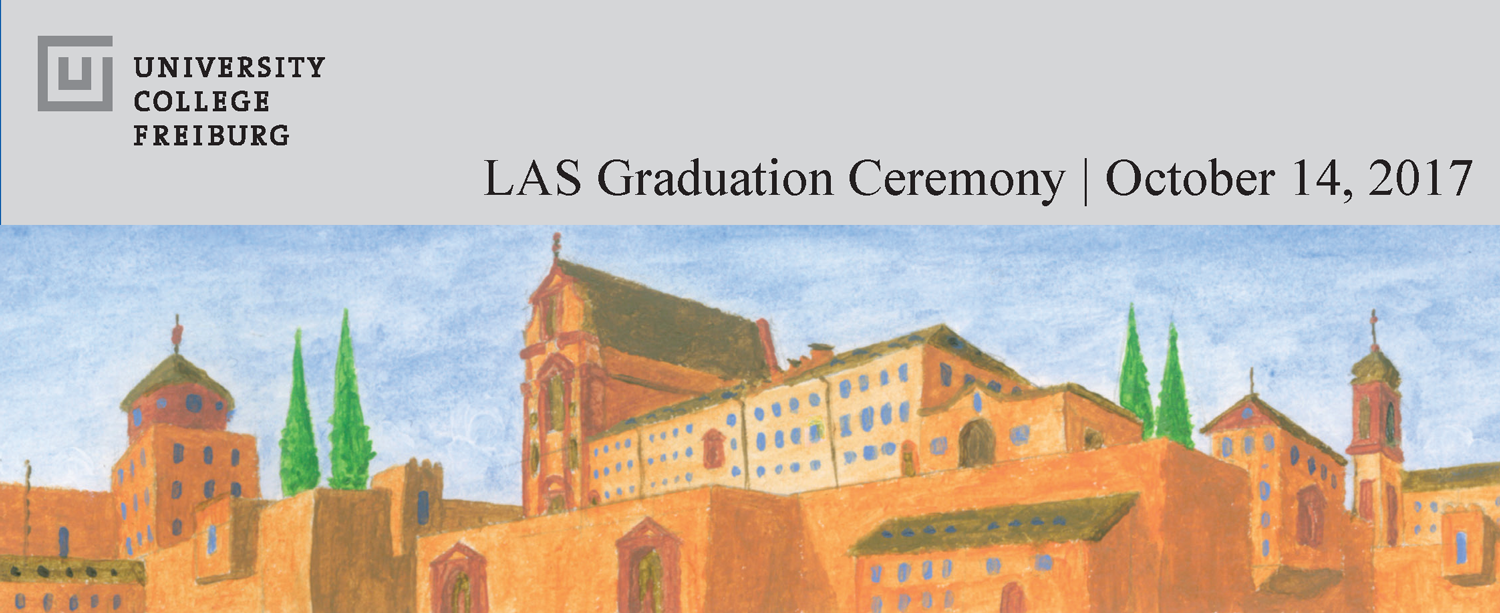 On October 14, 2017, over 200 people – professors, students, families, friends... – joined us to celebrate our second Liberal Arts and Sciences Graduation Ceremony and to congratulate and bid farewell to the 2017 LAS Graduates 2017.
The ceremony was opened by Paul Sterzel (UCF Managing Director). The opening addresses were held by Prof. Dr. Juliane Besters-Dilger (Vice-President for Academic Affairs) and Prof. Dr. Hans-Helmuth Gander (Dean of the Faculty of Humanities). Throughout the program, we enjoyed music by Still Busy, an LAS band featuring Luise Fakler (Violin), Christoph Raible (Percussion/Bass), and Abdur Rehman Zafar (Guitar).
(Photos by Patrick Seeger and Tom Burggraf)

Prof. Dr. Wolfgang Freitag (UCF Dean of Studies) and Dr. Ursula Glunk (UCF Academic Director) then took over for the main act, the conferring of degrees. Individual words of acknowledgement and farewell came from Dr. Ryan Plumley, Dr. Simon Büchner, Dr. Sabine Sané, and Dr. Liudmila Mikalayeva for the LAS Majors. 
Clara Hirschmann and Anastasiia Zubkova spoke on behalf of the graduates, followed by the LAS Executive Organizers Franziska Franke and Carlotta Rudolph and by Gregor Ranft, B.A., for the LAS Alumni (ALAS). The ceremony ended with farewell addresses by Prof. Dr. Ursula Schaefer for the University of Freiburg Alumni Association and by Dr. Ursula Glunk on behalf of UCF. 
(Photos by Patrick Seeger and Tom Burggraf)

Ceremonies are ceremonies, and champagne is champagne. The student-organized reception in the Prometheushalle provided a wonderful opportunity for final farewells and tears. 
We would like to thank all of you for making this event a memorable day for all of us!
"Travel is fatal to prejudice, bigotry, and narrow-mindedness […]. Broad, wholesome, charitable views of [people] and things cannot be acquired by vegetating in one little corner of the earth all one's lifetime." Mark Twain