After LAS Stories read more...

Elena Kloppmann: Major Culture and History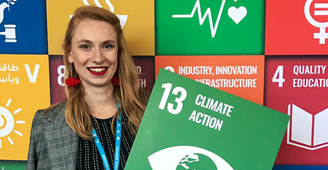 Elena's story is part of a longer interview with Friends of Freiburg.
Friends of Freiburg: Tell us about your background with Uni-Freiburg, and what you are studying right now.

Elena: The University College Freiburg is a very inspiring and competitive place to study at. It is filled with idealistic students who are now all on their own path to make a change in the world. I especially enjoyed the diversity in students, subjects and perspectives. It was a common rule that every question could be asked, and every discussion was worth its time. It was much less of a frontal education like in school. It was challenging at times, but it taught me to always be critical and constructive.
Freiburg as a city is — in my humble opinion — the most perfect place on earth. It is big enough to have amazing activities, small enough to escape into nature quickly. It's a young city with many ideas and initiatives; it's a green city – both naturally and politically. Every season is wonderful – skiing in the Black Forest in winter, bike tours and wine festivals in spring, long warm nights and visits to the lakes in summer, and cozy coffeeshops and Black Forest hikes in autumn.

FoF: What was your favorite part about being a student at University College Freiburg?

Elena: I studied at the University College Freiburg from 2012-2018, and received a Bachelor of Liberal Arts and Sciences, majoring in Culture and History. Now I'm pursuing a Master of Culture, Communication & Globalization specializing in International Relations at Aalborg University, Denmark. I'll graduate at the end of this year. The third semester of this degree is dedicated to an internship experience which brought me to NYC.

FoF: Tell us about your time in New York. What did you do?

Elena: From August 2019 to January 2020 – for 6 months – I was a United Nations Secretariat intern in the programme management section for the Director's Office of the Human Resources Services Division in the Department of Operational Support.

FoF: Do you have a current research focus or project?

Elena: I'm currently working pro bono in an international project team with Oracle, building an app/platform to help mitigate, manage, and overcome the current Covid-19 crisis. I will write my final thesis this autumn on a discourse analysis of international political communication on social media in a pandemic.

Here you can read the full interview of Friends of Freiburg with Elena.
Daniel Hölle: Major Life Sciences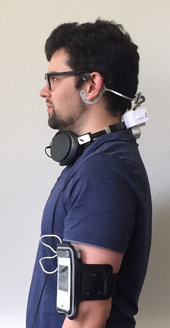 Daniel majored in Life Sciences and graduated from UCF in 2017. After his LAS studies he decided to apply for the Master program Neurocognitive Psychology at the University of Oldenburg, where he recently started his PhD position within the Emmy-Noether-group Neurophysiology of Everyday Life.
"My final years in the LAS program have sparked my interest in psychological research. During my year abroad in Canada, I was able to take various psychology classes and within my major Life Sciences I used every opportunity to pursue this interest. For instance, I wrote my Bachelor's thesis with the Department of Psychology in Freiburg. Naturally, after graduating in 2017, I applied to numerous psychology Master programs in Germany. My first preference was the research master 'Neurocognitive Psychology' in Oldenburg, perhaps one of the most inclusive psychology programs in Germany regarding applicants with non-psychological backgrounds. Mirroring a familiar experience of every LAS student, I had to explain one last time what exactly LAS encompassed before I was accepted in the program.
Looking back after two insightful and wonderful years in this Master program, I came to realize that the LAS education was a tremendous asset in many (also unexpected) ways. For example, in my first year I gave a presentation about Thomas Kuhn's scientific paradigms, an idea that clearly stuck with me. Furthermore, the previous experience with the statistics program R and, most importantly, the software MATLAB, which is crucial to analyze brain data, was extremely helpful. For my Master's thesis, I explored the feasibility of recording brain activity long-term in an everyday setting. My participants performed an auditory task during their office day activities for more than six hours. During this time, I measured their brain activity by using a fully mobile ear-EEG setup that was developed in Oldenburg (see photo). Since this project worked better than expected, my supervisor offered me a PhD position that would allow me to continue this research. Consequently, I started my PhD position within the Emmy-Noether-group 'Neurophysiology of everyday life' at the University of Oldenburg in April 2020.
Fun fact at the end: Another LAS graduate followed in my pioneering footsteps and started the Master program in the subsequent year. Nowadays we are flat mates and occasionally catch ourselves dwelling on LAS memories."
Daniel Müller: Major Governance
Daniel Müller was among the pioneer LAS cohort and majored in Governance. Daniel's passion is the Social Enterprise sector. And he found it through LAS. After his studies in Freiburg he worked for two social enterprises and is currently finishing his Master's degree in Philosophy and Economics.
"Is it possible to address societal and environmental challenges through social innovation? Can you reconcile business and ethics? Which trade-offs do you face along the way? Inspired by a LAS course on the theoretical implications of Corporate Social Responsibility, I deepened my understanding of Social Entrepreneurship through a practical workshop focussing on SE business models and self-understanding. After looking at the motivations for ethical consumerism through a sociological lens in my BA thesis, I ventured for a year to work for two social enterprises: On Purpose in Berlin and Fairphone in Amsterdam, the former being recommended by a peer from the LAS network. I currently finish my Master's degree in Philosophy and Economics at the University of Bayreuth, trying to describe what type of capitalism Social Enterprises envision and strive for.
With ease, I can navigate through new theories, concepts, and methods thanks to LAS. Be it at work or in my demanding Master's degree, whenever I was thrown into the deep end, I could rely on my LAS experience to stay afloat and learn how to swim. Either I've been aided by prior exposure to a similar method or topic through LAS or LAS at least gave me the confidence to believe in my abilities to eventually get to the bottom of a seemingly bottomless challenge. Be it Regularity Conditions of Maximum Likelihood Estimators or Epistemological concerns with oversimplified models in Economics."
Swenja Reil: Major Culture and History
Swenja Reil majored in Culture and History and graduated in the pioneer LAS cohort in 2016. After her LAS studies in Freiburg, she completed a Master's in Gender and Culture at Swansea University, UK. Now she is back in Dortmund and about to start her own business.
"After graduating from UCF, I stayed in Freiburg for a little while in order to make up my mind about what is next. Shortly after, I discovered a promising Master's program – Gender and Culture – and enrolled at Swansea University. Especially the close contact to my supervisor proved to be extremely useful, providing me with many insights into academia. During my studies I mainly focused on intersectionality, its methodologies and methods, and graduated with distinction one year later. The most interesting part has been the qualitative interviews I led with scholars from all over Europe for my dissertation. Apart from that, I had a great year with my flatmates at the international student accommodation.
Nevertheless, job offers were not immediately flying towards me which enabled me to become creative: Back in my hometown Dortmund, I decided that it is time to actually do some practical work. With a group of five young women, I am now founding a plastic-free shop called Frau Lose. For one year, we've been experiencing German bureaucracy to a new extent, gathered regional merchants who can provide us with local organic food and every-day products meanwhile trying to work in an inclusive way, free of hierarchies. Quite a challenge! Simultaneously, it is fun to put theoretical knowledge acquired at UCF into practice: the course on Social Entrepreneurship proves to be extremely helpful; knowledge about global interrelations provides meaning to our project; and actively working with as few hierarchies as possible adds inspiring aspects to theoretical background on ways of cooperation. Fortunately, the effort is constantly rewarded by the positive way in which the inhabitants of Dortmund react to our ideas. Now, I am looking forward to the opening of our plastic free space in the summer of 2019. Whereas I enjoy practical experiences, I am also looking forward to finding a job in academia eventually."
Saskia Bauer: Major Governance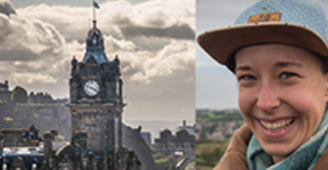 Saskia majored in Governance and graduated in 2017. She is currently doing an MSc in Sport Policy, Management & International Development at the University of Edinburgh. Saskia won the British Council IELTS Award 2017 that comes with a 10,000 GBP scholarship for her studies. An interview with Saskia is available on the British Council website, a video portrait is on Youtube.
"Having finished my Liberal Arts and Sciences degree with a major in Governance, I had many different options of what do. Through the course of the last four years I was mainly interested in developing countries, their political and economic systems, as well as why some countries develop differently than others. I could not picture myself working in the field as such, some component was still missing for me. Doing volunteer work I came across different organizations that focus on the power of sports in international development, peace building, fighting poverty or gender inequality. I was very fascinated by the approach because it combines both my interests in sports and international development. For my master I chose a program of the University of Edinburgh called Sport Policy, Management & International Development. I was somewhat surprised to get accepted because I do not have any academic background in sport. However, it is a very diverse program with students from fields as different as Global Studies, Marine Biology or Law. I feel very well prepared from doing my undergrads in Freiburg, much better prepared than most students in my program. I'm used to the workload, the form of assessment, giving presentations and designing academic posters. On this note: Thank you very much for the past four years that have taught me everything I need, in order to pursue a masters program at a highly ranked university abroad."
Caterine Hinestroza Torres: Major Culture and History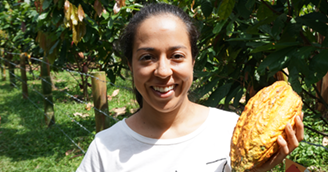 Caterine studied and graduated as a student in the pioneer LAS cohort. After her LAS studies in Freiburg where she majored in Culture and History, she completed a Master's in Management of Public Relations and Communication Agencies at the University Autonoma of Barcelona. She was engaged in the Project "Here and Black" in Freiburg and is now back in Colombia.

"After graduating from LAS last year I decided to enroll as a student for an Online Master Program, Public Relations and Communication Agencies at the University Autonoma of Barcelona, which I have finished in June this Year. Furthermore, I joined the Feministische Geschichtswerkstatt Freiburg in January 2017 and I started working part time with them to establish an Oral History Archive. Within the same organization I have taken part to many interesting projects, i.e. the project Here and Black, whose aim is to make visible the experiences of black people in Europe in the past and present. Black people have lived in Europe at all times, not just during European colonialism, and so these stories and experiences are worth to present as they are part of the European, German or regional history.
In March 2018 I moved back to Colombia in order to start working on my social and business project, which is related to the Colombian Cacao. The project focuses on valuing Colombian products and traditional practices such as producing chocolate with artisanal practices. Since many years ago Colombia has been exporting cacao and just a minimum part of it is consumed in the country. Furthermore, this small quantity that remains has been commercialized with more sugar than cacao itself. With my project I wanted to draw attention to this wonderful fruit and the opportunities that it offers to the Colombian economy. In addition, it offers opportunities for farmers that want to change illegal practices such as growing coca. The project is partially financed with GIZ (Deutsche Gesellschaft für Internationale Zusammenarbeit) funds and now I am looking for more finance options, so I can expand this idea through Colombia and not only in my region. Through this opportunity I have been able to combine my knowledge because part of my motivation is to rescue cultural practices and to give them meaning for younger generations, and my entrepreneurial spirit."
For more information, please see
Veronika Vazhnik: Major Earth and Environmental Sciences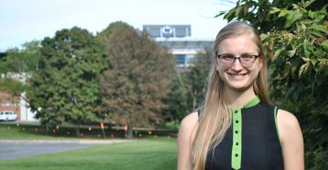 Veronika is a pioneer UCF alumna from the first graduating LAS class of 2016. She majored in Earth and Environmental Sciences in Freiburg and started her graduate studies at Penn State University in August 2016. Beyond courses in her Major BioRenewable Systems and in Operations Research, she is working as a PhD candidate at Prof. Tom Richard's lab.
In her studies and research, Veronika is focusing on creating a decision support tool that would assist in spatial and temporal planning of farm operations based not only on economic operations, but also on environmental and social factors. This includes desk and field work as well as travels: a Symposium on Biotechnology for Fuels and Chemicals in San Francisco, summer research at the Idaho National Lab, the annual conference of the American Society of Agricultural and Biological Engineers in Spokane, Washington.
After passing her comprehensive exams, Veronika is now (2018) writing her dissertation at the Idaho National Lab (INL). In her dissertation, she is developing a framework that can help farmers decide which crop to place where on the field based on the farmer's priorities and based on sustainability assessment of the choices. Her scientific approach is transdisciplinary, including landscape ecology, sustainability science, agricultural engineering, economic theory, operations research; as well as talking to farmers about what matters to them on their farms.
Besides that, Veronika is doing a minor in operations research, which is a subfield of industrial engineering that develops mathematical tools for decision-making and optimization. She visits conferences, co-organizes a workshop in the Chesapeake Bay on how to overcome the water pollution challenge and organizes a team to take part in the EcoChallenge.
Giorgio Chiara: Major Culture and History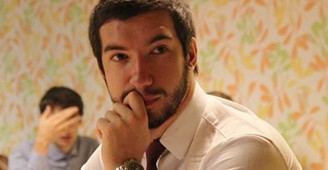 Giorgio majored in Culture and History as a student of the pioneer LAS cohort. After LAS he did internships at the Red Note Ensemble in Edinburgh, and at the Villa Vigoni, the German-Italian Centre for European Excellence on Lake Como. Afterwards, he completed his Master's at the Erasmus University Rotterdam in Cultural Economics & Entrepreneurship. Now he is working for a conference production company in Berlin as a Business Development Manager.
"After graduating from UCF I was unsure about how to continue my studies; thus I decided to take a one year break from academia and have some first-hand experience in the labour market. This decision first brought me to Scotland, where I completed an internship at a contemporary music ensemble working as an assistant to a former UCF staff member, and then to my Italian home country on Lake Como while also attending to various events like the European Forum in Alpbach. The experience gained during this year brought me to enroll to a great Master's program in Cultural Economics at the Erasmus University in Rotterdam.
Working in the cultural sector was my final goal. Obviously that did not happen immediately, and after getting my Master's degree I moved to Berlin as I accepted a job offer in the sales department of an international company that produces business conferences all over the world. So far it has been a very good experience as I am able to put into practice the skills in project management and research I gathered during my studies both inside and outside the classroom (never underestimate extra-curricular activities: I was very active during my four years in Freiburg, for instance by organizing the open days and the welcome weeks of the UCF as well as being an active member of the AKA Filmclub).
Interdisciplinarity is for sure a skill that is extremely helpful, since in my job I am expected to research and gather information on various topics in a short time span and then being able to communicate them in an effective manner. The last project I managed, for instance, concerned the new ERP software that SAP brought to the market and will likely bring an important disruption in the way many companies are managed worldwide. I had no knowledge about ERP softwares (nor about any IT-topic, for that matter) prior and I was expected to be able to lead the project with only two days of research at disposal.
I am enjoying my practical experience in a market that is far away from what I studied and was aiming for, but I am looking forward to eventually find a job in academia or the cultural sector. My LAS background supplied me with the right skills and mindset to be able to find my own way toward my eventual goal while confidently moving between different environments and people."
Theresa Weinstein: Major Life Sciences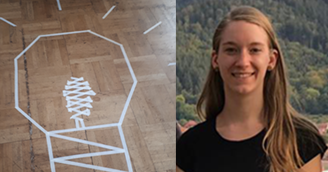 Theresa is another pioneer UCF alumna from the first graduating LAS class of 2016. She majored in Life Sciences and this is her story:
"After graduating from LAS, I was unsure whether I really wanted to choose science as my career path and to join a research-oriented master's program right away. I decided to first do something completely different after LAS: I started learning "Design Thinking" at the HPI D-School (Uni Potsdam), which is an additional study program that you can attend two full days per week, for one or two semesters. At the same time, I enrolled in "Wissenschaftsforschung" at HU Berlin. It helped me to learn more about the sociology of science and to gain a meta-perspective on what I would be doing when choosing science as my career path.
Studying Design Thinking at the HPI D-School, however, was the much more formative experience – it was very inspiring and enriching, both on a personal and career level. Design Thinking is basically another way of solving complex problems and to come up with innovative solutions using a human-centered approach. One of its core features is multidisciplinary team work. But Design Thinking is not only a method, it is also a mindset that fundamentally changes the way you think about problems and how you want to work in the future.
I think that Design Thinking – being interdisciplinary and providing a practical method on how to move from discussion into actual "doing" – is a perfect complement to LAS and I would recommend it to anyone graduating from UCF. At the D-School, many things reminded me of the UCF: the Common Room, the Reading Room, and a diverse set of very engaged people. Also, I was able to realize during that time, how many skills I have acquired from my LAS-studies that made Design Thinking feel natural for me: quickly adapting to new thinking styles, being able to get into a new complex topic on my own, dealing with uncertainty, and working together across disciplines.
After I got my certificates in Design Thinking, I decided that I still want to get a master's degree and to go back to my academic roots in the Life Sciences. I quit "Wissenschaftsforschung" and joined the research-oriented master's program of the Berlin School of Mind and Brain. Since then, I am studying all about the human brain, with a focus on social neuroscience. At the same time, I became a research assistant at the HPI-Stanford Design Thinking Research Program that studies the method from a scientific perspective, and I started working as a freelance Design Thinking coach and consultant, teaching others about Design Thinking or applying Design Thinking on their problems. This fall, I was able to come back to UCF to teach Design Thinking to LAS students (here you can find more information on the workshop).
Although the Mind and Brain study program is aimed at educating researchers and to prepare us for a PhD program, I am still unsure whether I want to do that forever. Design Thinking showed me that there are so many more interesting ways to go and - taken together with my LAS background - it equipped me with the right tools and inspiration to find my own path."
Lennart Hesse: Major Governance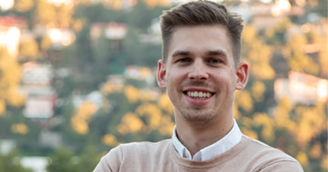 Lennart was part of the Liberal Arts and Sciences pioneer cohort and graduated from UCF with a major in Governance in 2016. After graduating, Lennart studied the Master's in Management at the Universidad Carlos III de Madrid, Spain. Since 2017, he has been working as Business Development Manager for an international IT company in Valencia, Spain. As of April 2018, Lennart is also acting as the official alumni ambassador for the University of Freiburg in Spain.
"During my undergraduate studies in Freiburg, I worked as student assistant to the rector of the University, Prof. Dr. Dr. h.c. Hans-Jochen Schiewer. During this time, I became interested in the work within public administration and in the topic of leadership. However, I also wanted to build a profile that would allow me to work for a private enterprise. For this reason, and because I wanted to live and study abroad, I chose to study the Master's in Management at the Universidad Carlos III de Madrid.
After my master's, I accepted a job offer as Business Development Manager for an international IT company in Valencia because I wanted to gain further experience abroad and because my partner has been working as a resident physician at a hospital here. The position has been a great fit for me so far, because I have been given the opportunity to manage international projects in the field of VAT compliance. For example, I have been the company's participation in the pilot project for electronic invoicing in Germany conducted by the Federal Ministry of Economic Affairs and Energy.
In addition to my full-time job, I am acting as the University of Freiburg's alumni ambassador in Spain. I first heard about the alumni association during my studies and they helped me to get in contact with an alumnus, who had been working as a diplomat, to find out about the career path. I, therefore, knew how important the alumni network is and how useful it can be for former students as well as for current students. Thus, I am very excited to act as a point of reference for current students and alumni and to inform them about the opportunities to study or work in Spain and to help establish the alumni network in the country. As part of that work, I am currently conducting a series of short interviews with alumni who are doing interesting projects, which will be published on the website of the alumni association soon.
In addition, I am frequently representing the alumni association at official events organized by the German Chamber of Commerce in Spain and the Germany Embassy in Spain. Chatting with the German ambassador of Spain and fellow alumni at those occasions are rewarding and guiding experiences for me. Therefore, I feel like the University of Freiburg has provided me with a lot of opportunities – even after my graduation."