Curriculum


The Liberal Arts and Sciences curriculum reflects the Program's interdisciplinarity. It combines academic breadth and depth and provides students with choice and development opportunities within a learning community and a structured framework.
Academic Content
The Foundational Year is the starting point of your LAS studies. Many of the LAS Core courses take place in the first year of your studies. From year two onward, students have a significant amount of freedom in designing their own study program, meaning students' individual LAS trajectories will develop quite differently.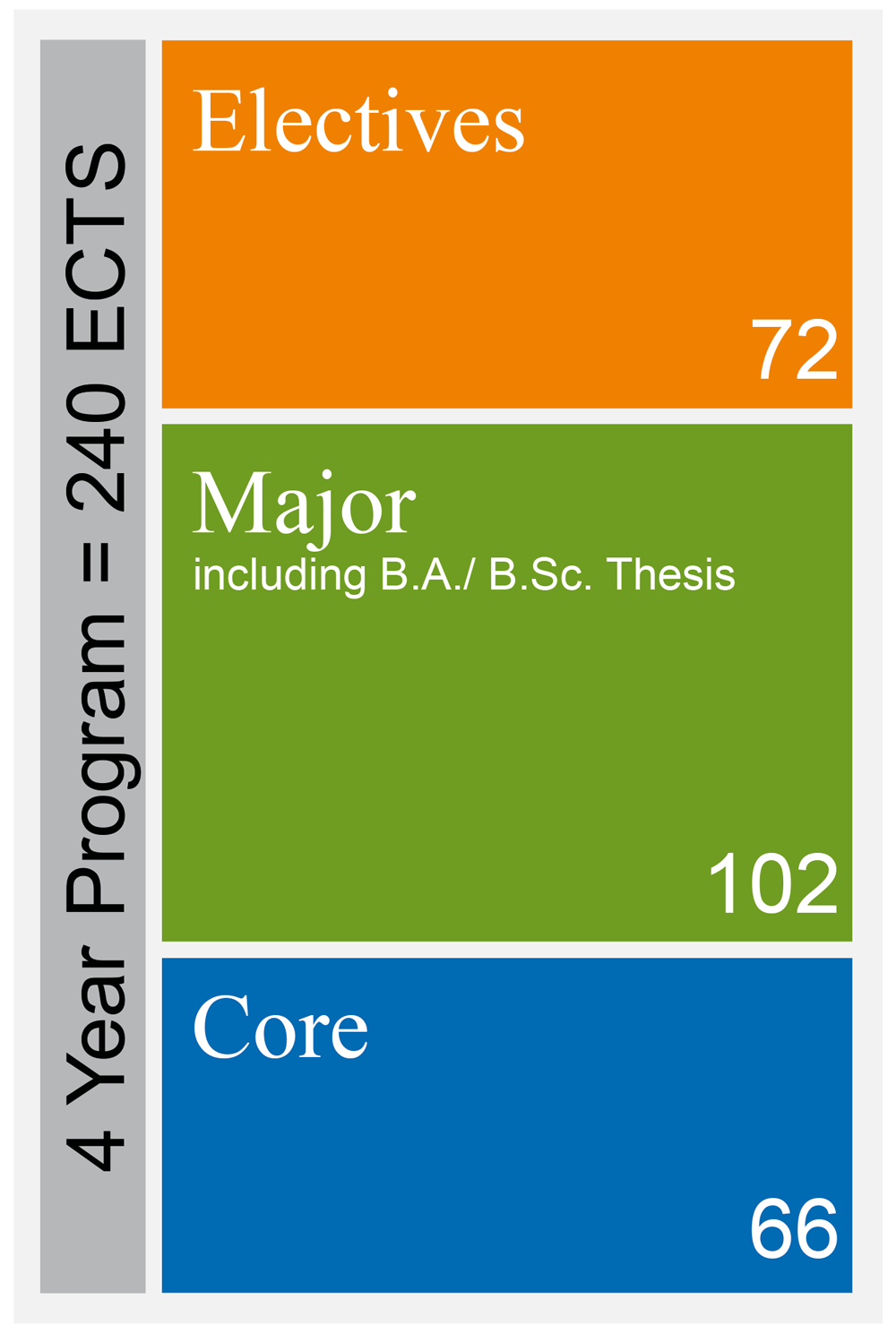 In the Electives, students can undertake a variety of courses and projects to further shape their profile and / or use these credits for courses taken on a semester or year abroad.
The Majors provide an in-depth education in a specific academic field that is, in itself, interdisciplinary. After their first year of studies, students choose one of the following Majors:
The Core is shared by all LAS students. It encompasses basic and advanced academic skills, philosophical and descriptive reflections on knowledge and science, and the a curriculum on Responsibility and Leadership.

The LAS curriculum is organized in modules. You can find the full description of each module in the Module Handbook. The corresponding LAS courses are published every semester in the Course Catalog:
Course Catalog Summer Semester 2020

The Course Catalog provides information on all LAS courses. It is published at the end of a semester for the upcoming semester. For updates on individual courses, please see ILIAS. For course registration, please carefully read pages 3 and 4.

LAS Online Study Choice Assistant
Are you interested in studying LAS at University College Freiburg? Does LAS fit your academic interests and expectations? The interactive Online Study-Choice Assistant (OSA) informs you about LAS and can help you find out if it is the right program for you. 


Academic Calendar
Winter Semester 2019-20
Pre-Block: September 30 – October 11

Welcome Week: October 14 – 18

University Semester: October 21, 2019 – February 14, 2020 (semester-long LAS courses run according to the university semester, no teaching during the university Christmas Break)

LAS Block I: October 21 – December 13

LAS Block II: December 16, 2019 – February 21, 2020 (no teaching during the university Christmas break)

Christmas Break: December 23, 2019 – January 6, 2020

LAS Resit Period (resit examinations that require student presence): April 6 – April 30
Summer Semester 2020
Pre-Block: March 16 – March 27
University Semester: April 20 – July 25 (semester-long LAS courses run according the university semester, no teaching during university Pentecost holidays June 01 – 06)
LAS Block III: April 6 – May 29 (Block III exams may take place during the university Pentecost holidays)
LAS Block IV: June 8 – July 24
LAS Resit Period (resit examinations that require student presence): October 5 – October 30
Winter Semester 2020-21
Pre-Block: September 28 – October 09
Welcome Week (for new LAS students): October 12 – 16
University Semester: October 19, 2020 – February 13, 2021 (semester-long LAS courses run according to the university semester, no teaching during the university Christmas Break)
LAS Block I: October 19 – December 11, 2020
LAS Block II: December 14, 2020 – February 19, 2021 (no teaching during the university Christmas break)
Christmas Break: December 23, 2020 – January 6, 2021
LAS Resit Period (resit examinations that require student presence): April 6 – April 30