News & Blog

Here and on
Facebook, we announce events and share UCF news and developments. For events and news at the University Freiburg, please see here.
March for Science April 22, 2017 – Science and Knowledge in the Public Context
At the Freiburg March for Science last Saturday, 2,500 scientists demonstrated their support for academic freedom and respect for science and scientific findings as well as their critique of populism and "alternative facts". In his speech, UCF's Dr. Nicholas Buchanan furthermore highlighted the importance of responsibility and public awareness in and for science – especially in the light of the manifold complex problems and societal and technological transformations we are facing.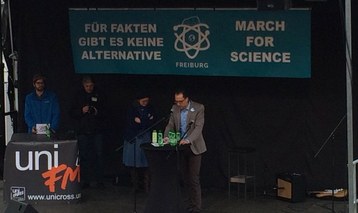 Uncertainty, skepticism, critical scrutiny and argumentation are inherent to the scientific (and public) debate and process. And science and scientists are definitely not infallible. Following Winston Churchill, one could postulate: The scientific method is the worst form of knowledge production except for all those other forms that have been tried from time to time. What's going on that academics are taking to the streets? Where did the discussion about the meaning evidence and facts come from and what does it entail? What are facts and what role do or should they play for society and for policymaking?
On April 22, altogether several hundred thousand scientists and science supporters in over 600 cities worldwide participated in Marches for Science. According to the Washington, DC initiators: "The March for Science champions robustly funded and publicly communicated science as a pillar of human freedom and prosperity. We unite as a diverse, nonpartisan group to call for science that upholds the common good and for political leaders and policy makers to enact evidence based policies in the public interest."
Professor Wolfgang Freitag on "Alternative Facts"
In several recent interviews, Wolfgang Freitag, Professor for Epistemology and Theory of Science at UCF, gave his analysis and comment of the situation: "There are no alternative facts, only competing opinions. […] And opinions that are proven wrong must be dismissed." What is new about the current discussion and taking into question science and facts? What does it mean for science and for society and for policymaking? Learn more at

Do you want to know more e.g. about Ignorance, Uncertainty and Non-Knowledge? These and further questions pertaining to science, knowledge, and the societal context of science and knowledge are at the core of the LAS program, embodied in LAS teaching by Prof. Freitag (Epistemology and Theory of Science) and Prof. Lipphardt (Science and Technology Studies).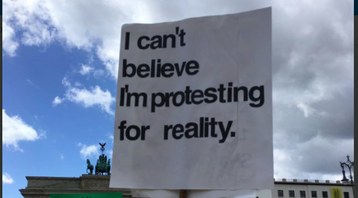 Science and Technology Studies, DNA Forensics, and Academic Public Engagement
In 2012, the University of Freiburg established the first Professorship in "Science and Technology Studies" (STS) in Germany. Prof. Veronika Lipphardt and her team play a central teaching role in the LAS program and are internationally active researchers. STS scholars study the relationships between scientific knowledge, technology, and society. An ongoing public debate on DNA profiling and forensics exemplifies the societal role STS and Prof. Lipphardt and her team can play:
The law enforcement community in Germany has been calling for more extensive use of forensic DNA analyses in criminal cases. A federal bill allowing extended criminological use of DNA analyses is currently being considered in the German Bundesrat. However, such analyses, as well as the collection and storage of DNA in general, raise legal and ethical issues. And scientists have continuously questioned the scientific accuracy of such analytical tools.
Following an open letter by the STS team at UCF and international collaborators, Prof. Lipphardt and her group were invited to present their critical perspective on DNA forensics at a Symposium held by the German Federal Ministry of Justice on March 21. Beyond legal, political, and academic circles, the question of DNA forensics has now received broad public attention in Germany, e.g.

and internationally:
Furthermore, the Science Media Center Germany has compiled extensive resources and expert voices.
Notwithstanding the legal and discursive developments in Germany and our individual opinions concerning DNA forensics, this situation demonstrates how science is socially embedded and has societal consequences. It is also an example of STS research and its application as well as of active public engagement on the part of (STS) scholars such as Prof. Lipphardt and her team and colleagues.
Call for Applications – Eucor Summer School 2017:

"Business – Science – Society: How Can We Shape Our Future?"
This upcoming August, the European Campus is hosting its first interdisciplinary and intercultural Summer School. The overarching theme is "Business – Science – Society: How Can We Shape Our Future?"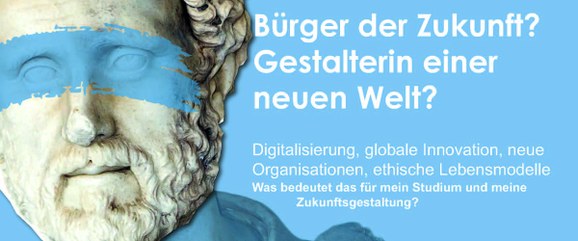 EUCOR – The European Campus is a trinational university association on the Upper Rhine, including the Universities of Basel, Freiburg, Haute-Alsace, and Strasbourg and the Karlsruhe Institute of Technology. The Summer School curriculum focuses on the topics "Organization and Culture," "Digital Transformation," and "Ethics and Values" and is taught by university and non-university experts from the Upper Rhine region and beyond.
When? August 20 – 26, 2017
Where? Studienhaus Wiesneck, 79256 Buchenbach
Bachelor students who are in their 4th semester and beyond can apply as of now and until April 30. ECTS recognition is possible for participating LAS students. The student contribution to the overall costs is €200. The full program and information on the application procedure are available on the Eucor Website.
Call for Applications – Two C. H. Beck Teaching Fellowships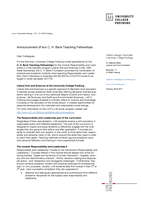 For the first time, University College Freiburg invites applications for two C. H. Beck Teaching Fellowships for the module Responsibility and Leadership II in the bachelor program Liberal Arts and Sciences (LAS).
This part of the curriculum is designed to inspire and equip students to effectively engage with the challenges they are going to face before and after graduation.Teaching methods combine rigorous academic input with personal reflection and training in more experiential formats.
The application deadline for this round is March 24, 2017. Further C. H. Beck fellowships for later teaching periods will be announced in summer 2017. Here you can find the full announcement.
Honorary Doctorate for Prof. Dr. Hans-Joachim Gehrke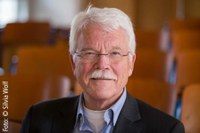 Over the course of his career, Prof. Achim Gehrke has received many honors and awards. On February 8, 2017, he was bestowed with a further and very special distinction that ranges among the highest a university can give: an Honorary Doctorate of the Faculty of Arts and Humanities at the University of Cologne. Documentation of the ceremony is available here.
We warmly congratulate Prof. Dr. Dr. h.c. Gehrke and are honored by his engagement as Director of Outreach, teacher, and mentor at UCF.
4th-year LAS Students' Conference – Research Design across Disciplines
On Friday, February 17, UCF will be hosting the second student conference "Research Design across Disciplines". The conference offers 4th-year LAS students to present and discuss their thesis proposals for their ongoing or upcoming Bachelor theses. It is the end-point of the course " Research Design across Disciplines" that exposes students to current research and to the expectations to independent and collaborative research in different disciplines, refreshes and deepens academic skills, and lets students develop self-management skills enabling them to take on long and complex projects, such as the Bachelor thesis.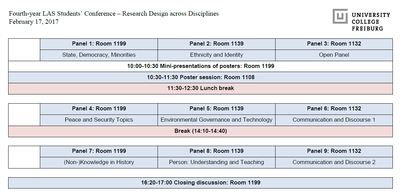 The conference will take place in Kollegiengebäude I and includes panels that range from "State, Democracy, Minorities" to "Environmental Governance and Technology" and "Non-)Knowledge in History".
The program is available here. And photos from the poster session are available on the UCF Facebook page.
2nd Liberal Education Student Conference – Call for Proposals

"A complex world needs complex thinking: The potentials and limits of Liberal Education in approaching contemporary challenges."
From May 5 – 7, 2017, students from University College Freiburg and Leuphana University Lüneburg are hosting the 2nd Liberal Education Student Conference (2nd LESC) at the University of Freiburg. The organizing committee has now announced their call for proposals.
The call (deadline: March 1, 2017) and more information about the conference are available on the LESC website. For impressions from the 1st Liberal Education Student Conference, please see their Facebook page.
Faszination Wissenschaft – Programm Sommersemester 2017
Das Lehr-Forschungs-Programm "Faszination Wissenschaft" führt Bachelorstudierende an das Berufsfeld Wissenschaft heran, fördert Kompetenzen zum wissenschaftlichen Projektdesign und vermittelt Kenntnisse zur deutschen und europäischen Förderlandschaft. In Projektseminaren entwickeln und bearbeiten Studierende aus unterschiedlichen Studiengängen Forschungsfragen zu interdisziplinären, gesellschaftsrelevanten Themen.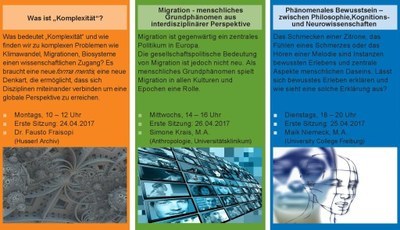 Das Programm des Sommersemesters 2017 umfasst die Themen...
Was ist Komplexität?
Migration – menschliches Grundphänomen aus interdisziplinärer Perspektive
Phänomenales Bewusstsein – zwischen Philosophie, Kognitions- und Neurowissenschaften
Der Faszination Wissenschaft Programmflyer des Sommersemesters 2017 steht hier zum Download zur Verfügung.
UCF and LAS Graduates in uni'alumni Magazine
University College Freiburg and the first LAS graduates are the main feature of uni'alumni 2017, the University of Freiburg alumni publication. Under the headline "Studium mit Aussicht", the feature includes presentations of UCF and the LAS program, first-hand impressions from LAS graduates as well as interviews with UCF's Prof. Gehrke and with Caroll Neubauer – CEO of B. Braun Melsungen, President of the German American Chamber of Commerce, Uni Freiburg alum and UCF supporter: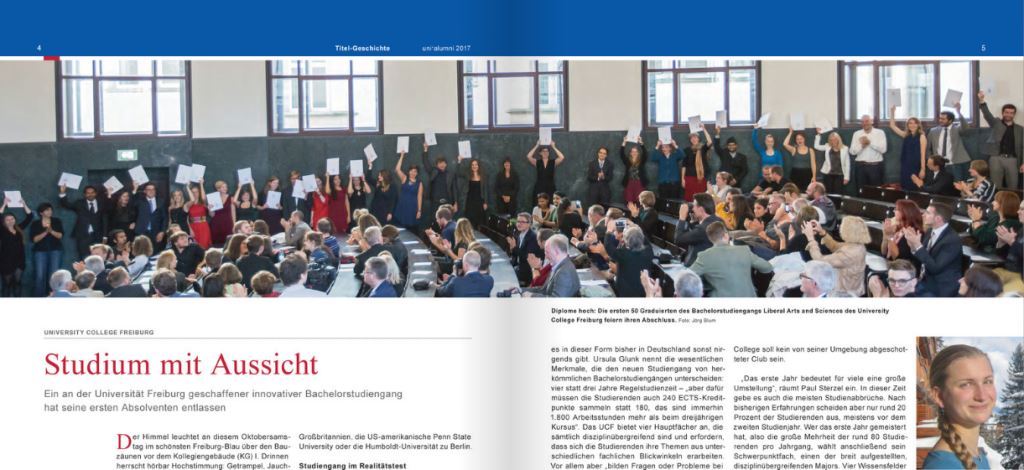 LAS goes Europe – January 2017
On January 11, a group of 40 LAS students accompanied by Dr. Stoyan Panov attended a hearing of the Harkins v. the UK case at the European Court of Human Rights in Strasbourg. The case concerned the prohibition of inhuman and degrading treatment and punishment and the right to a fair trial in extradition proceedings from the UK to the US and the potential imposition of a life sentence without parole in the state of Florida.
The group also visited the Council of Europe where they received inside knowledge of what the Council of Europe does, its structure, and functioning. The visit included a meeting with Mr. Gianluca Esposito, Administrator in the Directorate General Human Rights and the Rule of Law, who conducted a valuable lengthy Q&A session on current challenges that the Council of Europe is facing, e.g. the situation in Crimea, the protection and promotion of human rights in Europe, or the states of emergency in France and Turkey.
The excursion to Strasbourg was especially valuable for the participants in the LAS courses "Public International Law" and "Human Rights in the Global South". The impressions and acquired knowledge were actively integrated and discussed in these LAS seminars.

The excursions were possible thanks to kind support by Verband der Freunde der Universität Freiburg im Breisgau e.V.


LAS Open Days 2017
As every year, UCF invites prospective LAS students to Freiburg and to the annual LAS Open Days on April 28 and on June 2!

2016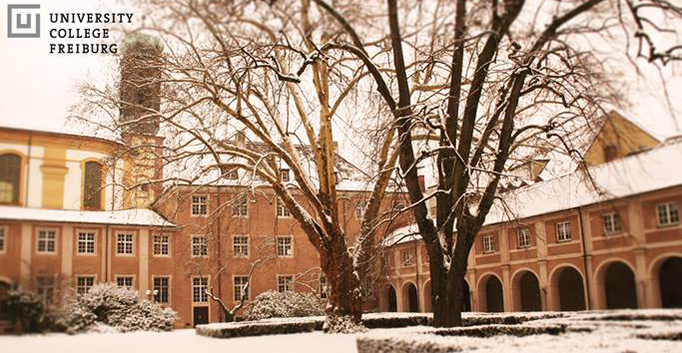 2016 was an eventful year. At UCF, we experienced many positive developments, including a successful Harvard Summer School, new students and staff, or the first graduation of UCF Liberal Arts and Sciences students. The graduation meant a sentimental farewell to the pioneer LAS students. And it was a major step forward for the LAS graduates individually and for UCF towards becoming an established institution.

At the same time, 2016 was and is a year of frustration, turmoil, and violence for many people around the world. We therefore wish all of you an encouraging, collected, and peaceful holiday break and New Year 2017.

UCF
Call for Applications – Assistant Professor in Epistemology and Theory of Science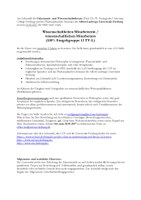 Starting January 1, 2017, Dr. Katharina Kraus will be taking on the position of Assistant Professor with tenure track at the Department of Philosophy of the University of Notre Dame. We congratulate her to her new position and warmly thank her for her engagement at UCF! Thankfully, she will remain connected to UCF and Freiburg, especially in her research.
Accordingly, the Chair for Epistemology and Theory of Science is currently seeking applications for the position of Assistant Professor in ETS. The full job ad is available (in German) here.
Workshop think3 – Philosophy and the Semantics of 'I'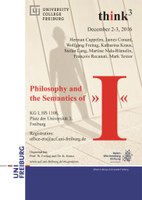 On December 2 and 3, 2016, Prof. Wolfgang Freitag and Dr. Katharina Kraus from the Chair in Epistemology and Theory of Science (ETS) are organizing a workshop on "Philosophy and the Semantics of 'I'". The workshop is based in the ongoing ETS research at UCF and the University's Department of Philosophy:
"When speaking about ourselves we often use statements that contain a first person pronoun, such as the English word 'I' and its cognates. There has been a controversial discussion whether de se judgments have features that set them apart from other judgments, such as a semantic peculiarity deriving from the first-person pronoun. The aim of this workshop is to address this issue and to explore its epistemological and metaphysical relevance."
The program is available here. Participation is free and open to all who are interested. Registration please by email to office-ets@ucf.uni-freiburg.de
Call for Applications – wissenschaftliche Hilfskraft for Faszination Wissenschaft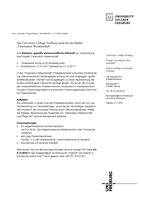 UCF is seeking to hire a Student Assistant ("Bachelor-geprüfte wissenschaftliche Hilfskraft") for Faszination Wissenschaft starting in January 2017. Please see here for the full job ad. Application deadline is December 5, 2016.
Faszination Wissenschaft at Uni Freiburg "Tag des Lernens und Lehrens"
The University of Freiburg is hosting the 2016 "Tag des Lernens und Lehrens" on November 18. This event provides a platform for exchange and reflection on methods and challenges of higher education learning and teaching. The conference in Kollegiengebäude I includes lectures, workshops, poster presentations, and many opportunities to learn about learning. UCF will be present with a poster presentation on its teaching project Faszination Wissenschaft. For more information, please see the full program at: Tag des Lernens und Lehrens.
October 15, 2016 – 1st Liberal Arts and Sciences Graduation Ceremony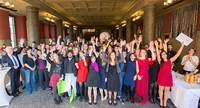 In October 2012, 78 pioneer students started their LAS studies and from the beginning became part of the fascinating process of developing UCF. Four years later, on October 15, 2016, the University, UCF, students, graduates, families and friends came together to celebrate the first LAS Graduation – a milestone for each student and for the College.
UCF Lectures Series – Winter Semester 2016-17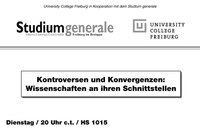 In the upcoming Winter Semester 2016/17, we are reviving the UCF Lecture Series in a new format. You are welcome to join three lectures on the theme "Kontroversen und Konvergenzen: Wissenschaften an ihren Schnittstellen".
This Lectures Series brings together researchers from different disciplines, from the natural and the social sciences as well as from the humanities, to discuss a topic that lies at the intersection of their research areas. All meetings will be held in German. The full program is available here.
Colloquium in Science and Technology Studies – Winter Semester 2016-17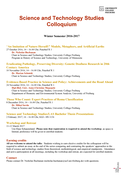 The Lehrstuhl in Science and Technology Studies University College Freiburg is inaugurating a new colloquium series beginning in Winter Semester 2016-17 with the goal of fostering a network of scholars and students interested in the social dimensions of science and technology. The series will invite speakers from inside and outside the university for talks and discussions. All are welcome to attend, and students wishing to receive credit for the colloquium should contact Dr. Nicholas Buchanan at nicholas.buchanan@ucf.uni-freiburg.de.
You can find an up-to-date calendar of talks here.
New Publication – "Experiences in Liberal Arts and Science Education..."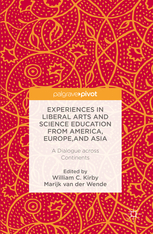 The conference "Global Dialogue on Liberal Arts and Science Education" in May 2015, hosted by the Harvard Center Shanghai, was the starting point for a now published book that explores a variety of international LAS innovations, start-ups, and major international collaborations between American, European and Asian institutions.
In Shanghai, Prof. Gehrke, UCF Director of Outreach, presented a UCF paper that covers the concept and experiences with the "start-up" LAS program in Freiburg: "Toward a New Unity of Research and Teaching in Academia" (co-authored by Nicholas Eschenbruch and Paul Sterzel). The conference included papers and perspectives from experts and practitioners from all over the world. The papers have since been revised, integrated and have now been published by William C. Kirby and Marijk C. van der Wende at Palgrave Macmillan:
Experiences in Liberal Arts and Science Education from America, Europe, and Asia: A Dialogue across Continents
The book covers developments in various regions as well as commonalities and differences in LAS educational concepts and practices. It highlights the experiences of international leaders in liberal arts and science education from around the world. Focusing on why this model responds to the twenty-first century requirements for excellence and relevance in undergraduate education, the contributions also explore if and how it can be implemented in different contexts and across academic cultures, structures, and traditions.
Updated version of the Course Catalog Wintersemester 2016/17 now online
Please note that an updated version of the Course Catalog for the Winter Semester 2016-17 is now online. It can downloaded under Statutes and Handbooks.
Call for Applications – (1) LAS Core Lecturer, (2) TA Maths and Physics
LAS Core Lecturer (in part-time)

UCF is seeking to hire a Lecturer for the LAS Core starting in October. Please see here for the full job ad. Application deadline is August 29, 2016.
Teaching Assistant (20h/month)

UCF is seeking to hire a Teaching Assistant for the LAS course "Maths and Physics for the Sciences". Start is in October, application deadline is September 12, and the job ad is available here.
LAS Course Catalog Wintersemester 2016-17 Online
We have finalized the Liberal Arts and Sciences Course Catalog for the Winter Semester 2016-17. The LAS Course Catalog includes information (Instructor, Course Description, Dates and Times) on the upcoming Block and Semester long courses as well as on the Course Registration procedure. It can downloaded under Statutes and Handbooks.
New Assistant Professor at UCF: Dr. Nicholas Buchanan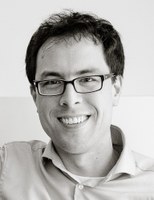 Starting in September, Dr. Nicholas Buchanan will take on a position that is roughly equivalent to Assistant Professor at the Chair in Science and Technology Studies (STS). He will be doing independent research and teach in the LAS program. In teaching, Nick focuses on legal, sociological, and historical matters concerning the environment. More generally, he will be an excellent contact for LAS students and graduates interested in STS and the history of science.
His interests focus on the intersection of science, technology, and the environment. His current project investigates the history of artificial environments and the role they played in shaping our understanding of the environment and the human place in nature. In earlier work, Nick examined the contested place of scientific expertise in controversies over environmental governance, human attempts to control the environment (and often the people in it), and the tense interplay between science and policy.
Currently Nick is a visiting Assistant Professor at the University of Minnesota's Program in the History of Science, Technology, and Medicine, where he teaches courses on ethics and law in science and technology, the cultural history of technology, and environmental studies. He earned his PhD in History and Anthropology of Science and Technology at the Massachusetts Institute of Technology and his BA with Highest Honors and Highest Distinction from the University of California, Berkeley.
We look forward to welcoming him to Freiburg, to UCF, and to the LAS program!
July 14, 2016: Erasmus Prize for the Liberal Arts and Sciences 2016
Medieval History, Cognitive Science, Linguistics, and now – Environmental Governance. That is the range of academic fields from which the Erasmus Prize winning theses have come since 2013, a clear statement that the Prize is truly interdisciplinary. This year the Erasmus Prize for the Liberal Arts and Sciences was awarded to Dr. Cristina Espinosa for her doctoral dissertation: "Apart from nature or a part of nature? Discourse analyses of the politics of redefining the relationships between humans and nature".
In her thesis, Dr. Espinosa analyzes the definition and redefinition of the relationship between humans and nature in the context of political initiatives and processes at various levels, from the local to the global. Her work exemplarily integrates approaches from the natural and the social sciences, and has a dedicated focus on epistemological questions. For more information, please see the Uni Freiburg press release.
On July 14, we once again hosted the Erasmus Prize ceremony and UCF Lecture 2016 in the Meckelhalle of the Sparkasse Freiburg. This year Prof. Dr. Margret Wintermantel, President of the German Academic Exchange Service (DAAD), gave a very interesting and inspiring lecture on "Internationalization of Higher Education – Opportunities and Challenges".
Thanks to all who were involved in organizing the 2016 annual UCF event and for the ongoing support for UCF!
(Photos by Patrick Seeger and LAS student Alena Zakurazhnova)
July 13, 2016: LAS and then? The answers...
Since 2012 LAS students, their parents, and we ourselves have been thinking about the crucial question: What happens after LAS? So far, we did not have direct answers and referred to information from other UCs, especially those in the Netherlands, and to very promising results from more general placement studies.
Now, we finally have first answers of our own. 50 pioneer LAS students who started the program in 2012 will be graduating this summer. Together with the emerging UCF alumni organization, we are currently collecting information on their next steps. Although some decisions are still open (many German Master Programs have not yet completed the admissions procedures), we can now provide a preliminary overview of their plans and destinations after University College Freiburg:
About 50% will pursue further academic training directly after graduating, for example:
PhD (fast track) Biorenewable systems, Penn State University

LLM International Criminal Law, National University of Ireland

MA International Affairs, Hertie School of Governance

MA Philosophy, FU Berlin

MA Public Policy, International Institute of Social Studies, Den Haag / Institut Barcelona d'Estudis Internacionals

MA Social Sciences, Humboldt Universität (invited for interview)

MBA, St. Thomas University

MSc / fast-track PhD Neurosciences, Universität Freiburg

MSc Comparative Social Policy, University of Oxford

MSc Environmental Communication and Management, Swedish University of Agricultural Sciences

MSc in Education, Johns Hopkins University

MSc Migration Studies, University of Oxford

MSc Molecular Medicine, Charité-Universitätsmedizin Berlin

MSc Sustainable Development, Universiteit Utrecht

MSc Translational Medical Research, Universität Heidelberg
Others will go on to discover the world of employment, intern- and traineeships in:
NGOs and Think Tanks (e.g. Terre des Femmes, Human Rights Watch)

Cultural organizations (e.g. Goethe Institute, Museums)

Research institutes

Businesses and

Social Entrepreneurship
Yet others will take time off after an academically intense 4-year LAS program in order to travel and explore.


From the start, we were convinced of our program and our students. Now, we and especially our graduates can be proud that this has been recognized by prestigious institutions all around the world. We will update the list as we receive more information on our graduates' paths. Already now, we wish them all the best!
July 11, 2016: UCF Lecture Series: Beyond the Crisis – Civilians in Armed Conflicts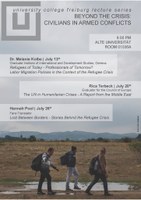 The UCF Students Council has organized a lectures series on civilians in armed conflicts and refugees. External lecturers have been invited to present their perspective and expertise in the following areas and lectures:
1. July 13th: Dr. Melanie Kolbe (Graduate Institute of International and Development Studies, Geneva): "Refugees of Today – Professionals of Tomorrow? Labor Migration Policies in the Context of the Refugee Crisis"
2. July 20th: Rica Terbeck (Evaluator for the Council of Europe): "The UN in Humanitarian Crises – A Report from the Middle East"
3. July 26th: Hannah Pool (Farsi Translator): "Lost Between Borders – Stories Behind the Refugee Crisis"

All talks are at 8:00 pm and take place in Room 01036a, Alte Universität



Melanie Kolbe
Refugees of Today –
Professionals of Tomorrow?
Rita Terbeck
The UN in
Humanitarian Crises
Hanna Pool
Lost Between Borders
July 8, 2016: What do you want to do with an LAS B.Sc. in EES?
On Monday, July 11, UCF is hosting a guest talk on work fields and job opportunities for LAS graduates. Mrs. Sester from the Environmental Protection Bureau (Freiburg) and Prof. Dr. Bunke from the Ökoinstitut / Institute of Applied Ecology will give guest talks and present different fields of work in their institutions. While there is a topical focus on LAS students majoring in Earth and Environmental Sciences, everybody interested is welcome to join the talks!
When: July 11, 2016, at 9:00
Where: HS 1, Alte Universität
July 4, 2016: Guest Lecture by Prof. Sheila Jasanoff (Harvard University) on July 11th
"Science and Public Reason in a Global World"
In cooperation between the University of Freiburg and Harvard University, UCF is currently hosting the first Harvard Summer School in Freiburg. Prof. Jasanoff, Professor of Science and Technology Studies at Harvard Kennedy School, will be holding a Guest Lecture on "Science and Public Reason in a Global World".
When? Monday, July 11th, 14 – 16h
Where? Hörsaal 1, Alte Universität, Bertoldstr. 17

In contrast to other liberal education models, the LAS program in Freiburg reaches across academic disciplines and includes humanities (Culture and History) to the social (Governance) and the natural sciences: Life Sciences and Earth and Environmental Sciences (EES). In order to present the features of and their experiences in the EES Major, students have set up an EES website. It includes information on the courses and lecturers as well as internship and graduate program opportunities and ecology oriented student initiatives.
June 20, 2016: Talk + Discussion:
Global Governance for Health – The Role of WHO
The lecture and discussion series "Academy meets Industry" is co-hosted by UCF and brings together people and perspectives from academia and industry – and International Organizations. The upcoming (June 22, 2016, 17:00) talk and discussion in the seminar series "Academia meets Industry" will focus on question of global health governance. Starting point for a topic that reaches from the Life Sciences to Governance is the talk by Dr. Rüdiger Krech from the WHO.
Upcoming Seminar (June 22, 2016):
June 15, 2016: Impressions and Presentations from the June 10 LAS Open Day
On June 10, about 80 prospective students visited UCF and Freiburg for our second LAS Open Day 2016. UCF provided presentations, information, campus tours, and, of course, cake. Thanks to the great student support! Thanks also for the interest and the many questions from prospective new LAS students.
If you missed this year's Open Days, please see the photos below and the Open Day presentation for a few impressions: LAS Open Day Presentation. For the first time, the presentation includes first hand answers to the big question: "What can I do with LAS?" Our upcoming graduates are step by step planning their next steps, including various PhD and Master programs, intern- and traineeships...
For the ongoing LAS application phase, further contact and information possibilities are available here.
(Thanks to Alena for the photos!)
June 14, 2016: Student Assistant Governance / Academic English
UCF is seeking to hire a Student Assistant for the Major Governance and for the study area Academic English. For more information, please see our job ad here.
June 1, 2016: Start of the LAS Application Period

The application period for starting the Liberal Arts and Sciences B.A./B.Sc. program in October 2016 runs from June 1 to July 15.
On our site for Prospective Students, you can find our Application & Admissions guidelines including links to the university's Student Portal – the starting point for your application where the necessary forms are online as of June 1. Furthermore, we have uploaded more Testimonials from current LAS students.
If you have questions concerning the LAS program and/or the application process, please see our Q&As and our Contact Info. Finally, our upcoming 2nd Open Day 2016 on June 10 is a great opportunity to visit Freiburg, learn more about UCF and LAS, and to get to know staff and students.
With our pioneer cohort of LAS students graduating this summer, this year's application and admissions process is a special one. For the first time, UCF and its LAS program will have come full circle.
We are looking forward to many interesting applications and a new cohort of students starting in October 2016!

May 11, 2016: Who the Heck is Jack?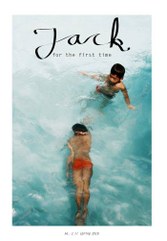 You may have already seen the Jack around campus these days. But who – or rather what – is the Jack?
Jack is a platform for creative and critical minds, for lovers of the English language, for writers and artists: the Jack is the very first student magazine initiated, run, and published regularly by us, students of University College Freiburg (UCF). Every issue of the Jack explores one specified general topic in an interdisciplinary and creative way: its articles adopt a political, scientific, social, philosophical, personal, cultural or alternative perspective and take on divergent stylistic forms.
This very first issue with the fitting topic "for the first time" is about travelling, about having to flee from home in a struggle for safety, about the consequences of scientific innovation, about post-modern revolutionists and about much more.

We, the UCF Journalism Committee, have started selling the Jack in front of the Mensa at Rempartstraße at lunch time and in front of the library in the afternoon. Why don't you drop by, buy a copy for yourself or your friends and let us know if you are interested in contributing yourself to this new project.
So are you - yes you, no matter what you study or if you study at all! – a creative mind yourself? Do you like drawing, writing or layout? Yes? Then approach us on campus or send us an e-mail to ucf.journalismcommittee@gmail.com. You can make this project even more wonderful and exciting! We are looking forward to hearing from you!
The UCF Journalism Committee
May 9, 2016: TA Job Offers at UCF
For the Major Governance and in the area of Advanced Academic English, we are currently seeking to hire new TAs! For more information and the job ads, please see our job offers page.
May 3, 2016: Prof. Dr. Ned Lebow – "Goodbye Hegemony! Power and Influence in the Global System"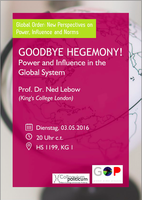 UCF's Global Order Project Team warmly invites you to our event "Goodbye Hegemony! Power and Influence in the Global System". Prof. Ned Lebow (King's College London) will offer a different perspective on power and influence in the global order, focusing on the United States as the former hegemon in the global system.
Join us at 8:15pm on Tuesday, 3 May, in HS 1199 (KG I) for another fascinating talk and discussion!
This event is a cooperation between the Global Order Project and the Colloquium Politicum of the University of Freiburg: https://www.studiumgenerale.uni-freiburg.de/col-politicum/vortragsreihen/global-order-ss16
April 26, 2016: Impressions from the 1st LAS Open Day 2016
About 80 prospective students and some parents joined us at UCF last Friday for our first Open Day 2016. We introduced them to the University and city of Freiburg and, of course, to our Liberal Arts and Sciences program. If you missed the Open Day on April 22 – please see the photos and the presentation slide show for a few impressions and join us on our second Open Day 2016 on June 10.
| | | |
| --- | --- | --- |
| | | |

Special thanks to Alena for the photos and to all cake bakers!
April 15, 2016: Dr. h.c. von Sponeck – "From Unilateralism to Multipolarity"
(Talk and Discussion on April 21)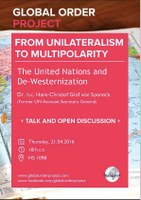 UCF's Global Order Project Team warmly invites you to our event "From Unilateralism to Multipolarity: The United Nations and De-Westernization" on Thursday, April 21, 2016, at 18 h c.t. in HS 1098, KG 1.
We are delighted to present our guest speaker Dr. h.c. Hans-Christoph Graf von Sponeck (Former UN Assistant Secretary General). The talk will be followed by a discussion and open reception.
Save the date and join us!



April 14, 2016: Prof. Lipphardt in 3sat Talk Show
The Austrian-German-Swiss TV channel 3sat is currently featuring a theme week "Das Geheimnis der Gene". The Thursday evening Talk Show Scobel will focus on "Race, Blood, and Genes". UCF's Prof. Lipphardt is invited as one of the experts for the discussion on the relations between genomics, ethics, society, and racism. The show was aired on Thursday at 9pm on 3sat and is available in their archive.
April 4, 2016: Relaunch of the UCF Website
We are pleased to announce the relaunch of our website! While the new website is not a complete redesign, we did clear up some dust the old site had collected since 2012 and can now provide clearer guidance and more concise information for various target groups.
For example, the new site includes a section specifically designed to inform prospective students about Freiburg, UCF, and our LAS program.
As no website can or should answer all questions, we have summarized our contact details and information channels – both for general interest, for current, and for prospective LAS students.
Furthermore, the updated LAS application and admissions information for 2016 is now online.
Finally, we have given more attention to UCF as an institution at the University of Freiburg and to the people involved in the College and in the Liberal Arts and Sciences program. "People involved" of course includes the UCF Student Council that now has a section of its own on the UCF website.
We kindly invite you to explore the new site, find out more about UCF and the LAS program – and to let us know what you think and what we might have forgotten!