Dr. Kerstin Fest - EPICUR Project Manager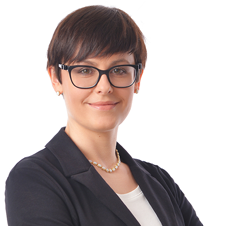 Kerstin Fest received her PhD in English Literature at the University of Freiburg. She also studied at the University of Salzburg, Oxford Brookes University and the University of Minnesota. Before returning to Freiburg in 2013, she taught at University College Cork (Ireland) for several years.

Her main academic interests are modernism, theatre studies, gender studies and thing theory. She has published a monograph on modernist women writers and various articles on chick lit, theatre fires and puppets. She has taught numerous courses ranging from modernist theatre to demons and devils in English literature and culture.


As project manager and lecturer for the EPICUR European Universities Initiative, she is responsible for developing and piloting collaborative teaching and learning formats for the new study track "European identities".
kerstin.fest@ucf.uni-freiburg.de
---
Short academic CV

Education
01/2006: PhD (Dr. phil.) at the University of Freiburg
10/1997-07/1998: Diploma of Advanced Studies of English Literature at Oxford Brookes University
10/1995-07/1999: Magister (MA) at the University of Salzburg


Previous Positions
2017-2020: Assistant Professor of English at the University of Freiburg
2013-2016: Research Fellow in the SFB "Otium"
2006-2013: Lecturer at University College Cork and Mary Immaculate College Limerick


Selected Publications

Monograph
...And All Women Mere Players? The Construction of Feminine Identity in the Novels of Dorothy Richardson, Jean Rhys and Radclyffe Hall. Vienna: Braumüller (2009).


Peer-reviewed Journal Articles
"Angels in the House or Girl Power: Working Women in 19th Century Novels and Contemporary Chick Lit". In Women's Studies 38 (2009): 43-62.
"New Women – New Artists? Femininity and Art in Christa Winsloe's Life Begins". In Germanistik in Irland 6 (2011). 137-151.
"Yesterday and/or Today: Time, History and Desire in Christa Winsloe's Mädchen in Uniform'" In German Life and Letters 65 (2012): 457-471.


Book Chapters
"Bless me Papa! What a strange place this is: Muße und Professionalität im englischen Metadrama des 18. Jahrhunderts". In Burkhard Hasebrink and Peter Riedl (eds.), Muße im kulturellen Wandel. Berlin: de Gruyter, 2014. 152-167.
"Dramas of Idleness: The Comedy of Manners in the Works of Richard Brinsley Sheridan and Oscar Wilde". In Monika Fludernik and Miriam Nandi (eds.), Idleness, Indolence and Leisure in English Literature. London: Palgrave, 2014. 154-173.
"Strumpets and Nightingales: The Amusement Parks of London". In Frédéric Ogée and Peter Wagner (eds.), Der Garten im Fokus kultureller Diskurse des 18. Jahrhunderts. Trier: Wissenschaftlicher Verlag, 2015. 101-114.
"'Let us not mix up heaven and earth, the global stage and the local scene, the human and the non-human': Transitory States in Gustav Mayrink's Der Golem". In Daragh O'Connell and Michael G. Kelly (eds.), Comparative Becomings: Studies in Transition. Boston: Peter Lang, 2016. 133-156.
"Sichere Muße: Theaterarchitektur und Risiko im frühen 19. Jahrhundert". In Eva von Contzen, Tobias Huff and Peter Itzen (eds.), Risikogesellschaften: Literatur- und geschichtswissenschaftliche Perspektiven. Bielefeld: transcript, 2018. 95-113.
"Oberland und Bloomsbury. Städtische und ländliche Muße in Dorothy Richardsons Pilgrimage." In Tobias Keiling, Robert Krause and Heidi Liedke (eds.), Muße und Moderne. Tübingen: Mohr Siebeck, 2019. 161-172.