Meet Caroline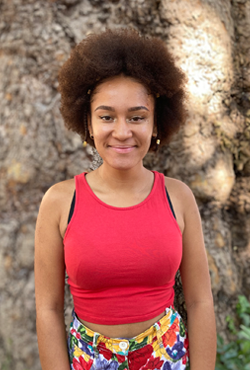 Meet Caroline!
Who are you?
I am Caroline, and I am coming from France. I am a 19 years old first year student that just declared her Major as Governance.

Why did you choose LAS at UCF?
Initially, I chose LAS because I couldn't decide between the whole range of disciplines I am interested in. I couldn't help but think I need a part of all of them. UCF was the perfect place for compromise: an interdisciplinary curriculum taught in English, a learning community that is really into creating and developing interest-groups (committies) and a forward-thinking sunny city in Germany.

Why did you choose your Major?
I just finished the Foundational Year, and decided to declare my Major in Governance. I've always been interested in politics and societal issues. I already knew I would end up choosing Governance, even though I hesitated with Culture and History. I want to know what the world we live in is built on. I want to be aware of the complexity of the issues we face. I want to contribute to the development of current realities.

Did you study abroad?
I did not have the chance to study abroad yet, although I would love to! I am especially interested in South American and African countries.

When you started LAS, what did you find challenging and/or unexpected?
What I found especially challenging was on the one hand the workload in the beginning, as well as the pressure I put on myself for choosing the 'right' courses, as they will have an impact on the development of my knowledge and studies.

What is the strongest point of the LAS program?
To me, our ability to become the masters of our curriculum is the strongest point of LAS. However, the program has the necessary structure to hinder their students to get lost in an incoherent curriculum, and I believe this is highly valuable.

What are typical misconceptions of LAS?
LAS is often seen as a curriculum that does not lead anywhere because disciplines that do not have anything to do with one another are mixed-up. On the contrary, interdisciplinarity is meant to use several disciplines in a efficient way in order to evaluate an issue that concerns more than one discipline.

Are you part of a committee?
I am part and since recently Co-Head of the Global Order Project. Every semester or year, the committee chooses a topic it will focus on. Different events such as discussions, talks with experts, excursions or movie nights are organized accordingly.

What's the first year like?
In the first year, most courses are compulsory. This will not always be nice for everyone, but they are necessary. Retrospectively, one understands how they are helpful for ones studies. UCF's
atmosphere however, makes the first year great and funny! New people, new city, committees, events...

What is the most fun course you've taken?
I loved attending the Introduction to Governance, even though I had to do it online. Some courses are so interesting that you don't even notice the great workload they require!

What advice would you give to future LAS students?
Take LAS as an opportunity to step out of your comfort zone by deciding to do you on an academical and personal level.

Can you explain LAS in one sentence?
LAS is an exciting and challenging personal and academical learning process.