LAS in EPICUR

At the heart of EPICUR is the Liberal Arts and Sciences (LAS) tradition of learning and teaching. The LAS programs in Freiburg (lead) and Amsterdam are the starting points. The Adam-Mickiewicz University is initiating an LAS program. And we aim to integrate programs, instructors, and students from all eight partners and to promote and disseminate LAS across EPICUR.
Liberal Arts and Sciences Didactic Approach
Within EPICUR, LAS is reflected in two distinct ways: (1) on the program level within the composition of two thematic Study Tracks (Natural & Societal Sustainability, European Identities) and the Track Core, and (2) on the course level in the didactic approach adopted in every EPICUR course.
Our long-term goal (2022 and beyond) is to develop a jointly taught LAS BA and/or BSc degree program; however, during the pilot phase (2019-2022) the aim is to develop collaborative courses (e.g., standard semester-long offerings as well as shorter, intensive block seminars, excursions, and summer schools) that include lecturers and students from multiple partners and adhere to LAS didactics. Such courses are
interdisciplinary and intercultural in their approach,
emphasize the importance of critical analysis, collaboration and hands-on problem-solving skills,
enable the acquisition of transferable and practical skills (e.g., media competence, presentation skills, etc.),
engage students directly and interactively in the design, scope and execution of class activities.
Collaborative Learning & Teaching Formats
In addition to embracing LAS didactics, EPICUR courses will systematically explore different forms of collaboration by focusing on two dimensions:
Format of Collaboration = how EPICUR universities and instructors collaborate, ranging from sharing materials to co-teaching.
Method of Delivery = how technology in a particular course supports student-centered learning, ranging from simple use of learning platforms to share materials to intricate online deliveries featuring asynchronous, recorded lectures and online student projects.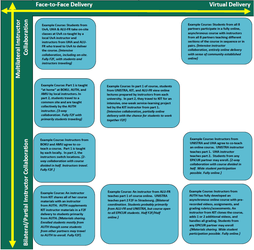 Join us!
What does EPICUR need from instructors and administrators at partners in this phase?
Newly developed courses that fit within our thematic Tracks or Track Core, and that adhere to LAS didactics, even if the course is part of a non-LAS degree program.
Existing courses that could be modified for collaboration (e.g., co-teaching, online delivery, or both – see table above).
Recognition of EPICUR courses taught at partner institutions within students' existing degree programs even if the program is not LAS-based (e.g., elective-credit or credit within major discipline if it meets existing requirements) 
What do lecturers and students stand to gain from getting involved in EPICUR?
The EPICUR classroom – access to traditional and online classrooms spanning eight institutions, as well as non-traditional offerings such as excursions and service learning.
The EPICUR community – course delivery formats will range from co-instructors standing in a classroom together to collaborative but asynchronous, fully-online delivery. This will broaden the horizons of students and instructors alike.
Participating instructors may lighten their workload by sharing in the work of course design and delivery with an EPICUR colleague.
Diverse perspectives – co-teaching and course design will not be limited to one institution, but will draw on the academic and cultural perspectives of instructors across the EPICUR alliance


Do you have ideas you would like to bring into EPICUR? Please use our EPICUR Ideas Box.