Chair in Science and Technology Studies

Welcome to the Chair for Science and Technology Studies (STS) at University College Freiburg. STS is a relatively young field of academic inquiry, one that reflects, follows and comments upon science, technology, and academia, and how they shape (and are shaped by) society. Our vision of STS is broad; it includes sociological, anthropological and historical approaches to studying scientific knowledge and technologies, but also knowledge and techniques more generally. (If it did not sound a bit ridiculous, "Knowledge Studies" would perhaps capture the comprehensive approach we embrace.)


OFFENER BRIEF ZU DNA-ANALYSEN IN DER FORENSIK anläßlich der Diskussionen um die Ermittlungen im Mordfall Maria. The investigation of the murder of Maria has contributed to calls for the use of controversial techniques for analyzing DNA. You can download our response to these calls, which urges caution, here.
Contact: OffenerBriefSTS@mail.uni-freiburg.de


June 9 and 10: Symposium and Lecture – "Erweiterte DNA-Analysen in der Forensik"
A few weeks ago, we posted about Prof. Veronika Lipphardt's engagement in the public debate about DNA forensics and how that relates to her academic work in the field of Science and Technology studies.
In order to expand academic exchange and complement the ongoing public debate, she is now hosting a Symposium on June 9 and 10: "Erweiterte DNA-Analysen in der Forensik: Möglichkeiten, Herausforderungen, Risiken". For more information, please see the STS@Freiburg website.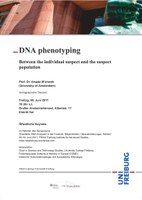 The symposium includes a public lecture by Prof. Dr. Amade M'charek
(University of Amsterdam) on
"DNA Phenotyping – Between the Individual Suspect and the Suspect Population"
Friday, June 9 at 19:00 (s.t.)
Research
Our current research projects reflect our interests in population thinking and categorization in the life sciences, both in historical and in contemporary perspective; however, as our team expands, our research agenda will broaden considerably. For research projects, click here.
 
Teaching
Our teaching is currently situated in the Liberal Arts and Sciences Bachelor Program at University College Freiburg. In the years to come, we will also teach in various other programs at the University, such as Interdisciplinary Anthropology, History, or Anthropology. For current teaching activities, click here.
 
Events
We have established a Colloquium Series. In addition, the Chair hosts other events, such as film series, lecture series etc. Here you can find an overview of our events. Please also check "News & Blog" for current events.
 
Cooperations and Links
We sustain cooperations with colleagues from many different disciplinary and national backgrounds that share an interest in similar issues from related perspectives. Furthermore, we are keen to provide some links we consider useful. For more information, please click here.