EPICUR
EPICUR at University College Freiburg
EPICUR places "Liberal Arts and Sciences Education" at the center of its endeavor – in Work Package 3 for which the University of Freiburg is the lead institution.
Please see here for more information on Work Package 3 and the role of Liberal Education in EPICUR.
And get in touch with us with your ideas for Liberal Education based innovation across borders!
Towards a European University and a European LAS Bachelor Program

Eight Universities in six countries successfully joined forces for the European Commission's "European Universities Initiative". The consortium EPICUR (European Partnership for Innovative Campus Unifying Regions) is a pilot project for the European University of the future and has received € 5 millions to design and implement innovative teaching and learning infrastructure and formats – formats that are geared to the new generation of European citizens, to face the great societal challenges of the Europe of tomorrow.

EPICUR – Mission and Partners

The project's pilot phase consists of several action programs, such as
promoting multilingualism and inclusive governance
implementing innovative Liberal Education based methods of learning and teaching
establishing an interuniversity campus, using a student and staff-centered approach
strengthening and connecting European regions
EPICUR consists of eight partners and provides a European-wide campus for 307,000 students: 
More information on the EPICUR website and the launch of EPICUR in Brussels.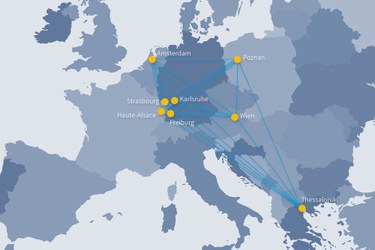 Credits map: entelechie/stock.adobe.com
Credits logo: photos: Chriso, entelechie/stock.adobe.com, photomontage: Jürgen Oschwald