Support and Advising


During your studies, you will encounter challenges (transition to uni, a new city or even country) and will have questions (about courses, Majors, study abroad...). UCF (and the University) provides support and advising – by staff and fellow students.
Please see the University of Freiburg pages for information on Coronavirus related policies. Advice and information regarding studying under Corona conditions is available here.
UCF Advisors
At UCF, all LAS students are assigned an academic advisor who is available for advice and guidance. Advisors are staff members with experience in supporting LAS students. They can provide you with a new perspective on your own situation, help you to think through your options, and support you with your decision-making.
Advising includes decisions about your studies and your future professional life, e.g. your choice of Major, whether to pursue an independent project, where to apply to study abroad, or what to do after LAS. Moreover, challenges such as adjusting to a new environment, dealing with matters in your private life that affect your studies, or balancing studies with work can be discussed with your advisor.
Please see the Student Handbook for more information on academic advising at UCF.
Peer Advisors
The LAS student body is an active community and has several support and advising offerings:
Peer Advisors
In student-to-student peer advising, students advise younger peers especially in their first year of studies: university- and life-related issues, surviving university bureaucracy, dealing with transition to adulthood and self-reliance, the unspoken rules and values at UCF and in Freiburg... All first-year LAS students are assigned to their peer advisors during the Welcome Week. Your continuing participation in the peer advising is voluntary.
Peer advisors are volunteer senior students. An advising group consists of 2 advisors and 6-8 advisees. There are several peer advising meetings throughout the year, each with a different focus depending on upcoming LAS decisions and deadlines. The first meeting is about getting to know each other, sharing first impressions of Freiburg and UCF, etc.
If you want to know more about peer advising at UCF, please contact Anne Klemperer (peer advising coordinator). LAS students can find more information on Ilias.
 

The Students Council is the association of all LAS students. It is a platform for social and extracurricular activities and contributes to support and advising at UCF:
Student Mediators confidentially resolve individual conflicts within the student body or between students and staff . They are also available for questions about student life at UCF: lasstudentsmediator@gmail.com
Student committees bring together students with similar interests, e.g. in the Outreach Committee, Journalism Committee, Global Order Project, Ecoalas, Intense Committee, Acts of Kindness, Reading Room Committee...
Intercohort get-togethers are organized by the Mediators and the Students Council Board at least once per semester. The idea is to get students from different cohorts together in a relaxed setting – ice-skating, movie nights, picnics and BBQs by the lake, in parks etc.
Program Consultation
LAS Program consultation focuses on technical and organizational questions. Thorsten Leiendecker, the LAS Program Coordinator, can be contacted at:
Student Office Hours: Monday 10

–

12 in the UCF Hallway by appointment
                                Wednesday 10

–

12 online (by appointment via Ilias) or phone (+49-761-203-67614)
Information on LAS courses is available in the Course Catalog. There and on the UCF staff page, you can find lecturers' contact details and office hours. Please always consult the information provided by the LAS Program Coordination on the ILIAS Info Board and in the Student Handbook first.
Examination Office
The Examination Office is responsible for administering forms, exams, grades, and transcripts. Kathleen Robinson and Esther Di Nunzio are available for student- and exam-related matters:
Tel. +49 761 203-67342 (Kathleen Robinson) and Tel. +49 761 203-67613 (Esther Di Nunzio)
Office Hours: Monday and Wednesday from 10–12, exam office (AU 01070), by appointment

Major and Core Consultation
Major and Core consultation by staff and students helps you in choosing your Major.
Major and Core Consultation
Major and Core consultation focuses on the content and organization of these areas of studies. Please consult the information provided by the coordinators first (e.g. Wikis, Interest Groups on the ILIAS Info Board).
Major Interest Evening (Major fair)
This event is held once per year, usually during the summer semester and coordinated with the deadline for the LAS Major declaration. Here, the Major coordinators present "their" Major and answer your questions. 
Major Information Evenings by students
LAS students organize a Major information evening per Major at least once per semester. Interested students from the same Major get together to discuss questions, ways to improve course offerings and selection, possibilities for additional training or education, etc.
Major Interest Groups on Ilias
On Ilias you can find the Major Interest Groups that offer additional information on the Majors, specific courses, course materials, or excursions.
Study Abroad Consultation
Consultation for outgoing and incoming exchange students focuses on questions before, during, and after their stay abroad or their stay at UCF. Please consult the study abroad information on our website and on ILIAS first.

If you have questions please get in touch with UCF International Coordinator Anne Klemperer at anne.klemperer@ucf.uni-freiburg.de
Office Hours: Monday afternoon by apointment (R01066)
Study Abroad Fair
UCF hosts a Study Abroad Fair every spring. It includes presentations from UCF and the International Office on study abroad opportunities as well as an experiences Q&A with LAS students who have returned from studies abroad and with exchange students from our partner universities.
Support beyond UCF
The University of Freiburg provides student services and advising: 
Studierendenwerk Freiburg (Student Services Freiburg)
The Studierendenwerk Freiburg offers psychological and social counselling, medical and legal advice, advice on insurances and financial matters, studying with children, studying with disabilities, and much more.
In case of an emergency
Emergency telephone numbers: 110 (police) or 112 (fire department/rescue service)
Here is a list of first aid information and emergency contacts in and around Alte Universität.
B2gether offers online counseling for young adults. It's anonymous, free, available in English.

Arbeitskreis Leben has a U25 suicide prevention offering specifically for young adults.
LAS Peer Advising Testimonial
Johanna and Benedikt were peer advisors in 2019: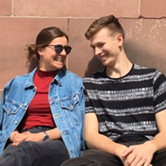 "Our main motivation to become mentors was to offer guidance to first-years starting a new chapter of their lives at UCF and Freiburg. This new chapter often creates many questions, insecurities and challenges, as well as new inspiration and possibilities. We remember this time in our own first year very well, and hoped that our involvement as advisors would make the first year at UCF somewhat smoother for our mentees. 
Our aim was getting to know all our advisees and create a personal connection, so they would feel comfortable talking about their personal situation and we would be able to give proper advice. In the end, this showed us that that we are connected in many more ways than just being students at the UCF!"