News & Blog

Here and on
Facebook, we announce events and share UCF news and developments. For events and news at the University Freiburg, please see here.
"Research Design Across Disciplines" – Conference (February 9/10, 2018)
In the LAS course Research Design Across Disciplines (RDAD), fourth-year students refine their academic skills, learn about the contexts of research, and develop research proposals of their own. The course ends with a self-organized conference at which the students present and discuss their proposals before embarking on their B.A. or B.Sc. theses.
The RDAD conference 2018 will take place on February 9th and 10th. It includes panel sessions on topics such as "Global Actors and their Foreign Policies", "Views on Humanity", "Improving Human-Environment Interactions", or "The Human Body between Health and Disease" as well as a Poster Session.
The full program is available here.

January 24, 2018: UCF at the European Court of Human Rights and Council of Europe
A group of 40 students from University College Freiburg, from the Faculty of Law-University of Freiburg and EUCOR partner University of Basel accompanied by Dr. Stoyan Panov (UCF) attended a hearing of the European Court of Human Rights on 24 January 2018. The group witnessed the Grand Chamber hearing of the highly politically contentious case of Navalnyy v. Russia in the European Court of Human Rights. The case concerned the numerous detentions of Mr. Alexey Navalnyy, his right to a fair trial, and the freedom of political assembly in Russia. After the hearings, the group met with a lawyer from the Registry of the Court who discussed what it is like to work at the Court.
| | |
| --- | --- |
| ECtHR building, Strasbourg | Meeting with a lawyer from the ECtHR |
In the afternoon, the group visited the Council of Europe and attended the hearing and Q&A session of the Prime Minister of Denmark, Lars Løkke Rasmussen, before the Parliamentary Assembly of the Council of Europe. Afterwards, Mr. Alun Drake from the Directorate of Communication of the Council of Europe met with the group and presented on the function of the Council of Europe followed up by a Q&A session on the current challenges that the Council of Europe is facing. The visit to the Grand Chamber's hearing of the ECtHR and the Council of Europe was particularly valuable for the participants in the Public International Law and International Law in Practice courses. 
| | |
| --- | --- |
| Parliamentary Assembly of the Council of Europe | Council of Europe, Strasbourg |
The excursion was possible thanks to kind support by Alumni Freiburg!
January 24, 2018: Job offers
UCF is seeking to hire:

More information is available under Job Offers. We are looking forward to your applications!
January 16, 2018: Finance and Banking – Expert Interview with Mr. Alan Gerry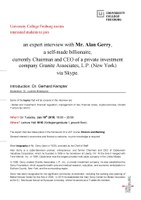 The ongoing LAS Governance Course "Finance and Banking", taught by Dr. Gerhard Kempter, covers topics such as the global financial industry, bank regulation and management, and the power of money. In the context of this course and in order to provide first-hand insights, an expert interview via Skype will take place with the self-made billionaire Mr. Alan Gerry. 
This session is open to all who are interested in economics and finance. It will focus on topics such as financial regulation, risks, and crises, but also on cryptocurrencies and Donald Trump's tax reform.
When? On Tuesday, January 16, 2018, 18:00 – 20:00
Where? Lecture Hall 1016 (Kollegiengebäude I, ground floor)
Mr. Alan Gerry 
Liberal Arts and Sciences – Key Dates 2018
For prospective LAS students, we would like to announce the following key dates for 2018:
1. LAS Open Days
In spring 2018, UCF will again open its doors for prospective students. The Open Days 2018 will take place on Friday, April 20 and on Friday, June 8. More information is available here.
2. Application Period
The application period for starting the LAS program in October 2018 is June 1 – July 15.
3. Interview Week
The LAS selection interviews will take place from in the week of July 30 – August 3. Please see our Application and Admissions page for more information; and please note that we will update our application guidelines early 2018.


2017-2018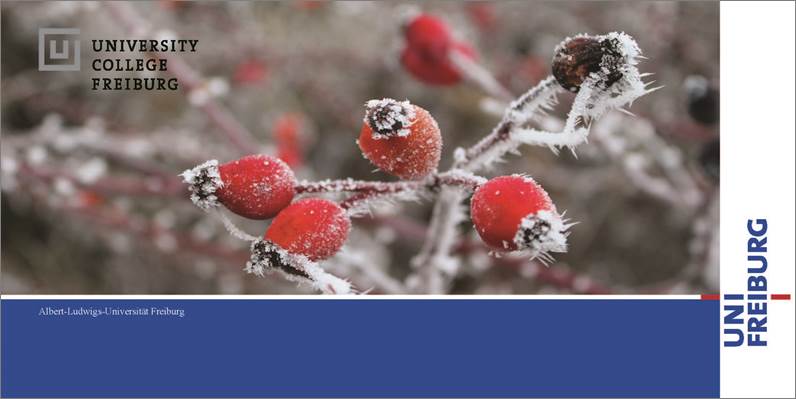 We would like to thank everybody who contributed to making 2017 a very positive year for UCF – students, staff, professors, the many supporters and friends. We look forward to continuing our collaborations of many kinds in 2018.
And we wish everybody peaceful and inspiring holidays as well as a great start to the New Year 2018.
UCF
 
December 15−16, 2017: Workshop think4: "Self-Consciousness"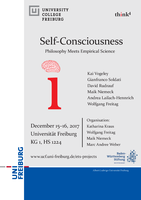 On December 15−16, 2017, the think4 workshop "Self-Consciousness − Philosophy Meets Empirical Science" will take place.
Subjects that exhibit self-consciousness are able to consciously recognize mental and bodily states as their own. Philosophical, neuroscientific and psychological theories of self-consciousness seek to account for this ability at different levels of explanation. Relevant questions are, for instance: How does self-consciousness emerge in a brain? Is self-consciousness in any interesting way distinct from the awareness of other things? Is it a non-conceptual, pre-reflective feature of all experiences? Further questions concern our way of referring to self-conscious states and the specific kind of knowledge that we seem to have of ourselves. The aim of this workshop is to explore contemporary neuroscientific and psychological answers to these questions and to discuss concepts and theories that philosophy can offer.
The program is available here. Participation is free and open to all who are interested. Kindly register via email to: office-ets@ucf.uni-freiburg.de
December 7, 2017: FRIAS Lunch Lecture by Prof. Lipphardt and Prof. Pfaffelhuber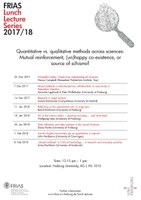 On December 7, Prof. Veronika Lipphardt and Prof. Peter Pfaffelhuber will give the FRIAS Lunch Lecture on "Mixed methods in interdisciplinary collaboration: A case study in Population Genetics". This lecture is part of the FRIAS series "Quantitative vs. qualitative methods across science: Mutual reinforcement, (un)happy co-existence, or source of schisms?".
When? 12:15 − 13:00 on December 7, 2017
Where? KG I, HS 1015
November 22, 2017: LAS at the Open Day of the University of Freiburg
On November 22, the University of Freiburg opens its doors and UCF with its Liberal Arts and Sciences Bachelor program is part of it. Come visit us for:
1. Info Session on Liberal Arts and Sciences
by Thorsten Leiendecker

, LAS Program Coordinator

12−14h, UCF, Alte Universität, Bertoldstr. 17, first floor, room 01036a

2. LAS Course session "Sciences, Technology & Society"
12−14h, KG 1224, Kollegiengebäude I
Science and technology are defining characteristics of our world. But how is scientific knowledge made, how are technologies developed? Read more.


3. LAS Course session "Environment Risks and Us"
16−18h, KG 1231, Kollegiengebäude I
In this course students explore the complex relationships between human activities, the environment and resulting risks 

−

for human health as well as for the environment. Read more.


To make the planning of your day and navigation at the University easier, the University of Freiburg provides a special app for its Open Day. We are looking forward to seeing you at UCF!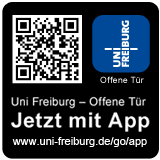 October 31, 2017: CREATES Project Kick-Off
Creating Responsive, Engaging and Tailored Education with Students (CREATES) is an Erasmus+ Strategic Partnership focusing on educational approaches that encourage student agency and self-directed learning. The project is funded by the European Commission for 3 years. UCF's project partners are:

On October 31, the CREATES project team – including UCF's Dr. Ursula Glunk – met for the first time in Lüneburg:

We are proud to be part of such an experienced and inspired higher education community. Over the next three years, UCF staff members and students will work together with our international colleagues in order to develop best practices and toolkits for (1) creating engaging classrooms, (2) designing advising approaches that support students in taking ownership for their learning path throughout the curriculum. We will share our findings with educators, students, and higher education decision-makers through training events, conferences, and publications. So: stay tuned for more!
October 14, 2017: LAS Graduation Ceremony
On October 14, 2017 we celebrated our second Liberal Arts and Sciences Graduation Ceremony. Over 200 people joined us to congratulate and bid farewell to the LAS Graduates 2017. We would like to thank all of you for making this celebration a memorable day for all of us. More information and photos are available here.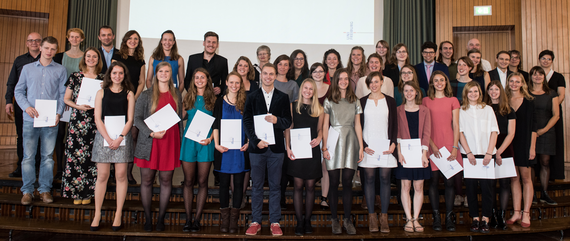 October 9-13, 2017: Welcome to our new students
Last week we welcomed our new LAS students at UCF. During the Welcome Week the students met their teachers and visited info sessions where they learned everything about the structure and organization of the study program. Besides that, they got to know each other and their fellow LAS students, tried the Mensa for the first time and had fun at pub crawls and the big Opening Celebration. We wish you a good start here at UCF!
(Photos by Tom Burggraf)
September 22, 2017: Award Ceremony for Dr. Lya Pfeifer – Max Kade Foundation
On September 22, the University of Freiburg awarded Dr. Lya Friedrich Pfeifer the honorary senator distinction. Lya Pfeifer devoted her career to strengthening relations between the United States and Germany. Since 2003, she is President of the Max Kade Foundation, a foundation that promotes exchange between students and academics in the US and German-speaking countries. Beyond transatlantic exchange programs, the foundation has supported the construction or renovation of student dorms across Germany, three alone in Freiburg.
In January 2017, the foundation agreed to gift $600,000 to University College Freiburg in order to renovate and refurbish two lecture halls at the Alte Universität. They were last renovated during the reconstruction of the Alte Uni complex after the Second World War. With the generous donation from the Max Kade Foundation, the University can put the lecture halls to full use and to achieve their full potential as central learning and interaction spaces. 
We thank Dr. Lya Friedrich Pfeifer and the Max Kade Foundation for their huge support!
For more information, please see the University of Freiburg press release and the portrait of Lya Pfeifer in the Badische Zeitung.
September 18: Course Catalog for Wintersemester 2017/18 is now online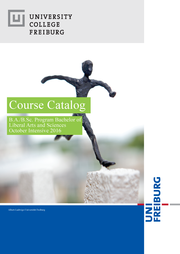 We have finalized the Liberal Arts and Sciences Course Catalog for the Winter Semester 2017-18. The LAS Course Catalog includes detailed information (Instructor, Course Description, Dates and Times) on the upcoming Block and Semester long courses as well as on the Course Registration procedure. You can download the Course Catalog, as well as older Course Catalogs and other handbooks, here.
September 12: Special LESC issue published

A special LESC issue of the Journal of Educational Philosophy and Theory, featuring seven fascinating student contributions to the first European Liberal Education Conference (LESC), has just been published OnlineFirst by Taylor and Francis. The European Liberal Education Student Conference  (LESC) was jointly organised by undergraduates of the Studium Individuale programme at Leuphana University, Lüneburg and the Liberal Arts and Sciences programme at University College, Freiburg. The first LESC conference took place at Leuphana University in 2016, the second at University College Freiburg in 2017. Here you can find all the links to the contributions of the LESC special issue. We congratulate the authors and LECS student organizers warmly.
August 4: Faszination Wissenschaft – Programm Wintersemester 2017/18 
Das Format Faszination Wissenschaft ist als interdisziplinäres Forschungsdesign für Bachelorstudierende konzipiert. Ihr wollt wissenschaftlich kreativ sein, euch mit anderen Disziplionen austauschen und "outside the box" denken? Ihr wollt eigene Forschungsprojekte entwickeln, einen Forschungsantrag verfassen und die deutsche und europäische Forschungslandschaft kennenlernen? Dann ist Faszination Wissenschaft genau das Richtige für euch.
Das Programm für das Wintersemester 2017/18 umfasst folgende Kurse, die als BOK-Kurs, im Ergänzungsbereich oder als Wahlfach anrechenbar sind:
Schlaf und Schlafstörungen
Beziehungen in der Arbeitswelt
Genetische Veränderungen des Erbguts
Der Faszination Wissenschaft Programmflyer des Wintersemesters 2017/18 steht hier zum Download zur Verfügung.
August 2-4, 2017: "
Human Document Project 2017" at FRIAS
"To preserve a document about mankind for one million years..."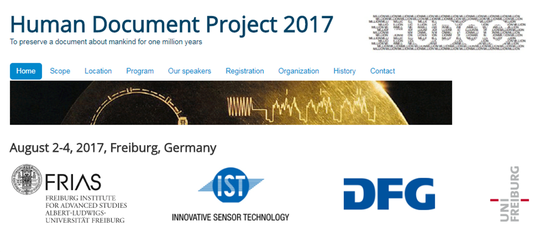 Next week, the Freiburg Institute for Advanced Studies (FRIAS) is hosting an interdisciplinary conference in the context of the Human Document Project 2017. The project and conference bring together researchers and practitioners to discuss questions of cultural heritage and data storage. What kind of content – texts, art, research data – should we preserve? Which technologies are suitable for which preservation purposes? Among 40 other speakers, Prof. Hans-Joachim Gehrke, UCF Director of Outreach, will present his findings on "Cultural transformation and dark ages in historical scholarship". 
For more information on the project and on how to attend the conference, please see the Human Document Project 2017 website.
July 20, 2017: Global Order Project guest lecture: Anti-establishment parties in Central and Eastern Europe
In their Summer Semester guest lecture series, the Freiburg Global Order Project is hosting a talk on "Anti-establishment parties in Central and Eastern Europe – Less ideology, more support?"
By? Sarah Engler, University of Bern
When? July 20, 2017 at 19:00
Where? Kollegiengebäude I, Room 1108
For more information, please see the GOP Facebook page.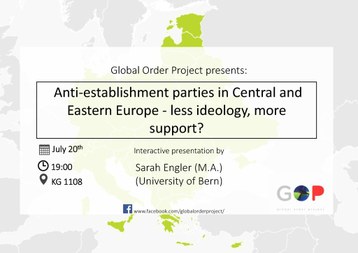 July 14, 2017: Guest lecture by Prof. Dr. Syndercombe-Court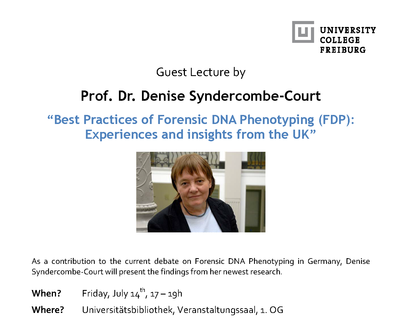 Debates on Forensic DNA Phenotyping (FDP) have intensified in Germany since recently. Experts, practitioners, politicians and the public are divided upon the questions whether, when, in which cases, and under what conditions these new technologies could and should be applied (or not).
Denise Syndercombe-Court, a word leading expertin forensic DNA analyses, will give a lecture on "Best Practices of Forensic DNA Phenotyping (FDP): Experiences and insights from the UK" and provide first-hand insights into the practices, comities and regulatory issues of FDP. She draws on her vast and detailed experiences gained by her research, her reporting on cases, and her memberships in numerous institutions and state bodies dealing with forensic DNA analyses. Here you can find more information on the lecture and Prof. Syndercome-Court.
The talk is hosted and introduced by the Chair for Science and Technology Studies and University College Freiburg together with the multidisciplinary initiative STS@Freiburg.
When?   17:00 on July 14, 2017
Where?  University Library, Veranstaltungssaal, 1st floor.
June 23: Erasmus Prize Award Ceremony
In 2017, the Erasmus Prize for the Liberal Arts and Sciences was awarded for the fifth time. The Erasmus Prize honors Bachelor, Master or PhD theses that create bridges between the natural sciences and the humanities. This year, the Prize was awarded to Matthias Leanza for his dissertation "Die Zeit der Prävention. Eine Genealogie". In his PhD thesis, Leanza traces the mutual genesis and interconnected history of prevention and modernity using disease prevention as an example. From a methodological perspective Leanza combines history of science with sociological societal theory. For more information, please see the University of Freiburg press release.
We were very privileged to have Prof. Dr. Dr. h.c. Friederike Fless, President of the German Archaeological Institute, give the UCF Lecture 2017. Prof. Fless talked on "Das bedrohte Welterbe – Palmyra und seine Folgen". We thank her very much for her very up-to-date and most inspiring lecture!
The award ceremony took place on June 23, 2017, in the Meckelhalle of the Sparkasse Freiburg. Towards the end of his career, Erasmus of Rotterdam, after whom the prize is named, worked and lived in the Haus zum Walfisch. This building today houses the Sparkasse Freiburg-Nördlicher Breisgau. The evening included a guided tour by Marcel Thimm himself, Chairman of the Board of the Sparkasse Freiburg.
UCF thanks all guests and supporters for being part of the 2017 award ceremony!
| | | |
| --- | --- | --- |
|   |   |   |
|   |   |   |
|   |   |   |
|   |   |   |
(Photos by Patrick Seeger)
June 21: Lecture "Global Populism and Inter-Nationalism"
The Freiburg Global Order Project is hosting a lecture by Dr. h.c. Hans-Christof Graf von Sponeck on "Global Populism and Inter-Nationalism. An International Perspective". 
Dr. h.c. Hans-Christof Graf von Sponeck has extensive experience in international relations and diplomacy. From 1968 to 2000 he worked for the United Nations, from 1998 on he served as the UN Humanitarian Coordinator for Iraq and held the position of a UN Assistant Secretary General. Today, Dr. h.c. von Sponeck teaches at the Centre of Conflict Studies at University Marburg.
When? 19:00 on June 21, 2017
Where? KG III, Room 3043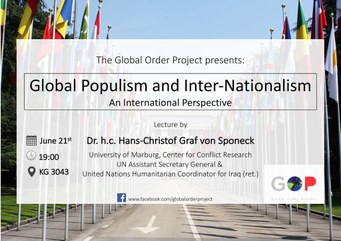 June 9 and 10: Symposium and Lecture – "Erweiterte DNA-Analysen in der Forensik"
UPDATE June 21, 2017: 
Yesterday, Deutschlandfunk broadcasted a special feature "Erweiterte DNA-Analyse. Den Tätern auf der Spur". Background information is available here

, the podcast

here

.

Furthermore, the TV channel 3sat interviewed Prof. Lipphardt. The video is available here.


A few weeks ago, we posted about Prof. Veronika Lipphardt's engagement in the public debate about DNA forensics and how that relates to her academic work in the field of Science and Technology studies.
An interview with Professors Veronika and Anna Lipphardt is available (in German) on the University of Freiburg website.
In order expand academic exchange and complement the ongoing public debate, she is now hosting a Symposium on June 9 and 10: "Erweiterte DNA-Analysen in der Forensik: Möglichkeiten, Herausforderungen, Risiken". For more information, please see the STS@Freiburg website.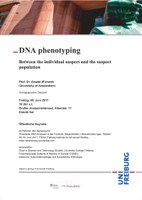 The symposium includes a public lecture by Prof. Dr. Amade M'charek
(University of Amsterdam) on
"DNA Phenotyping – Between the Individual Suspect and the Suspect Population"
Friday, June 9 at 19:00 (s.t.)
June 1 – July 15: LAS Application Period 2017
The application period for starting the Liberal Arts and Sciences B.A./B.Sc. program in October 2017 runs from June 1 to July 15.
You can find our Application & Admissions guidelines including links to the university's Student Portal under Prospective Students. The Student Portal is the starting point for your application and the necessary applications forms are now available. 
If you have questions concerning the LAS program and/or the application process, please see our Q&As and our get in touch with us:
Finally, our upcoming 2nd Open Day 2017 on June 2 is a great opportunity to visit Freiburg, learn more about UCF and LAS, and to get to know staff and students.
Finally and just in time for the application period, we updated the Online Study-Choice Assistant (OSA) for the Liberal Arts and Sciences program. This interactive tool provides insights into the LAS program and counts as a "Studyorientation-test" that must be completed and submitted for matriculation at the University of Freiburg.
We are looking forward to many interesting applications and a new cohort of students in October 2017!
May 31, 2017:

Bertha-Ottenstein-Prize for Dr. Ryan Plumley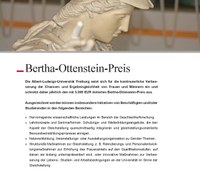 Every year, the University of Freiburg awards the Bertha-Ottenstein-Prize for outstanding achievements in the field of gender equality. Dr. Ryan Plumley, responsible for the LAS Major Culture and History, is one of the Bertha-Ottenstein laureates 2017. 
He is being honored for the concept of his course on feminism in the Culture and History Major. The award ceremony is on May 31 in the context of the University of Freiburg "Dies Universitatis".