News & Blog

Here and on

Facebook, we announce events and share UCF news and developments. For events and news at the University Freiburg, please see here.
January 7, 2021: Global Affairs in Dialogue online talk on January 14
The Global Affairs in Dialogue committee of the University College Freiburg is thrilled to invite you to join the online talk "The Uyghur Tribunal – Investigating China's Alleged Persecution of Uyghurs".
For this event, we are inviting Sir Geoffrey Nice QC, the chair of the Uyghur Tribunal. He will share insights into the work of the tribunal, that is, the investigation of China's alleged crimes against humanity against Uyghur and other Muslim population.
As part of the series "Europe as a Normative Power", the Global Affairs in Dialogue committee warmly welcomes you to discuss topics of common concern. University College of Freiburg alumni and now human rights consultant Marilena Stegbauer will moderate this very special edition.
When? The meeting will take place on Thursday, 14 January 2021 at 18:00 (CET). You can sign up via this form: https://forms.gle/Cu28dZEg2WdPXjYc9
For more information on the talk, please have a look at the website: https://www.globalorderproject.com
December 22, 2020: We wish you a peaceful festive season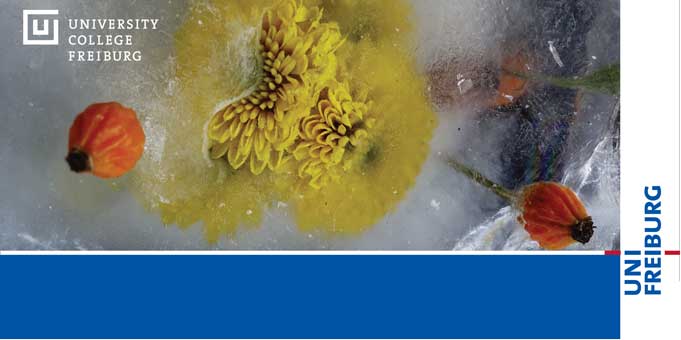 LAS student Vera Brandes designed this year's christmas card - thank you so much, dear Vera!
We would like to thank all our supporters – students, staff, professors and many friends – for their commitment and engagement over the past year. It was a challenging year 2020, and we wish everybody a peaceful festive season and all the best for the New Year 2021!
Next year, starting January 22nd, we will again offer our live Q&A sessions. Have a look at the dates and kindly register for each session. We look forward to seeing you 2021.
UCF
December 10, 2020: Virtual Teaching Collaboration LAS – EPICUR – VirtualLAS 

Starting this winter semester, UCF has launched VirtualLAS
VirtualLAS is a UCF teaching project, funded by the DAAD International Virtual Academic Collaboration. Program. The project focuses on collaborative, digitally based teaching, and student-instructor dialogue as well as on intercultural competencies and team-working skills.
VirtualLAS will pilot and evaluate innovative and collaborative teaching formats using three projects with partners in Freiburg, Poland, Denmark, Sweden, and the United States. The course topics are:
Pandemics in History
Sustainable Cities
European Union Rising Up to Challenges

VirtualLAS is a further teaching project that extends the Freiburg LAS Programm internationally and virtually!
On December 9, the LAS / EPICUR seminar on "Sustainable Cities" welcomed a prominent guest lecturer: Prof. Katherine Richardson is leader of the Sustainability Sciences Center in Copenhagen and VirtualLAS project partner. Her research focuses on identifying so-called planetary boundaries.
In her lecture, she demonstrated the importance of preserving biodiversity and reducing climate change so that the matter and material cycle is able to maintain human life. She highlighted the role of the Sustainable Development Goals (SDGs) for achieving a livable Earth for all and the necessity to understand their interconnectedness in order to reach them. As it is expected that the majority of the global population will be living in cities in near future, Sustainable cities is an SDG.
But will we be able to live within the planetary boundaries? Our actions so far are not sufficient. But as we managed the ozone depletion, we may be able to manage living on one planet Earth also in future. For further reading, please see central research publications co-authored by Katherine Richardson: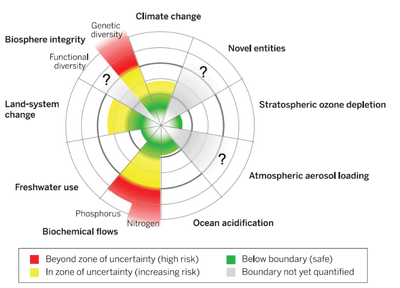 December 2, 2020: Discussion on the "EU and the People's Republic"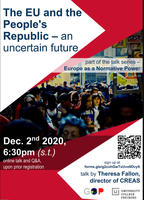 After a successful first panel discussion of the event series "Europe as a Normative Power", the Global Affairs in Dialogue warmly invite you to their next discussion on the "EU and the People's Republic – an Uncertain Future".

In this talk, expert Dr. Theresa Fallon, who is the founder of the think-tank CREAS and a longtime researcher of Europe-Asia relations, will share her expertise, discuss with us, and answer our questions. Here you can find more information on the topic or Dr. Fallon.
When? Wednesday, December 2nd, at 6.30 pm.
Prior registration is necessary to enter the meeting and can be done here. You will receive the link to the zoom-meeting via email a few hours before the talk.
November 27, 2020: Be EPICURious! 1st Annual EPICUR Forum December 9-11
Save the Date! The 1st EPICUR forum on Entrepreneurship & Sustainability will take place Dec 9-11, 2020.
The EPICUR forum is open to students, teachers, researchers and administrative staff from universities as well as local and European stakeholders. The program includes a virtual start-up tour, panel discussions, keynotes on environmental project funding and entrepreneurship, workshops for researchers and teachers from 6 European countries, an ERASMUS challenge for students, and much more. The full program is on the EPICUR website.
Registration is open until December 6. Be EPICURious!
Our "EPICUR Erasmus challenge" continues. The EPICUR alliance invites ERASMUS students and alumni to share their Erasmus "feeling" and experiences. Take part in our #EpicurErasmusChallenge on Instagram.

November 25, 2020: Graduation and Welcome Week – Under Special Circumstances
No doubt – this year's restrictions due to the coronavirus pandemic gave us a hard time also in organizing our two major LAS autumn events: the 2020 Graduation Ceremony and Welcome Week. Thankfully, a hybrid format including live and online contributions was possible for both events:
Thanks to many heartwarming presentations and greetings, live and via video, the LAS Graduation Ceremony was a most lovely, festive, and memorable occasion that gave us all the opportunity to congratulate and bid farewell to the LAS Graduates 2020. More photos and info here.
For this year's LAS Welcome Week, we invited all new students to our opening session in the Aula of the university (and under physically distanced conditions). Those who could not make it to Freiburg followed us via Livestream. During the Welcome Week, small-group hikes outside were possible thanks to the weather and not overly strict coronavirus regulations. Our traditional Opening Celebration was moved from the Peterhofkeller to the Internet and, surprise, it was a fabulous party with music, costumes, welcome speeches, and that LAS spirit already visible in our 2020 LAS cohort!
November 23, 2020: Panel discussion on "European democracy promotion"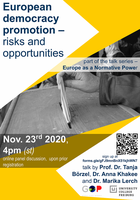 On Monday, November 23rd at 16.00 (s.t.), the Global Affairs in Dialogue Committee (formerly known as the Global Order Project) will hold a panel discussion on European democracy promotion.
Under the topic "European democracy promotion – risks and opportunities" experts Prof. Dr. Tanja A. Börzel, Dr. Anna Khakee, and Dr. Marika Lerch will share their individual expertise with us, engage in discussion and answer our questions. 
Prior registration is necessary to enter the meeting and can be done HERE. We will send the participants a link via e-mail to get into the virtual conference a few hours before it starts.
November 18, 2020: UCF participates at "Tag der offenen Tür" of Freiburg University
The University of Freiburg will be hosting a virtual Tag der offenen Tür on November 18, 2020. We at UCF will participate with live sessions about our Liberal Arts and Sciences Program. Join us at UCF for two information and Q&A sessions, hosted by Dr. Ursula Glunk and Paul Sterzel and with current LAS students.
More information on our Open Day
Paul Sterzel, UCF Managing Director, and a current LAS student will present the LAS study program and answer all your questions.
9:30-10:15 am CET (Central European Time)
Via Zoom


1:00 pm: Talk live to LAS students
Current LAS students will introduce you to LAS from their perspective and inform you about student life, student activities and committees at UCF, and answer all your questions.

1:00-1:45 pm CET (Central European Time)
Via Zoom
Dr. Ursula Glunk, UCF Academic Director, and a current LAS student will present the LAS study program and answer all your questions.
4:00-4:45 pm CET (Central European Time)
Via Zoom

The slides from the LAS Information and Q&A sessions are available here (2.1 MB).
Beyond the UCF live sessions, you can join general Uni Freiburg offerings (in German) on topics such as: how to finance your studies, how to find a right study program for you, study abroad opportunities, and take a virtual campus tour.
Have a great and informative Tag der offenen Tür!

November 4, 2020: FRIAS Lunch Lectures on Resilience
This winter term, the FRIAS is hosting a virtual Lunch Lecture Series on
Multidisciplinary Research on Resilience: Examples from Theory and Practice.
This semester's series is organized by the FRIAS Research Focus Building and Researching Resilience in the Environmental Humanities. At each session, affiliated researchers offer 25 minute lectures for students and the (University) public, followed by about 20 minutes of discussion. 
The series is bi-weekly on Thursdays, 12.15 pm – 1.00 pm on Zoom. For more information and contacts, please see the FRIAS web page.
5 Nov 2020 – Roderich von Detten (Forestry Economics, Freiburg): "Resisting", "Reorganizing" and "Maintaining" – Origins and Dimensions of Socio-ecological Resilience
19 Nov 2020 – Kate Rigby (Environmental Humanities, Bath): 'Daily Bread': Resilience, Religion and the Arts
3 Dec 2020 – Stefan Kaufmann (Sociology, Freiburg): Societal Resilience.

On the Ambivalences of a Concept

 

17 Dec 2020 – Luisa Cortesi (Anthropology, Rotterdam): Amphibious Omens: Adapting to Dangerous Wetness
14 Jan 2021 – Philippe Hamman (Sociology) & Aurélie Choné (Literature and Cultural Studies, Strasbourg): Concepts, Discourses and Uses of Resilience in Literary and Social Science Studies

 

28 Jan 2021 – Patrick Sakdapolrak (Human Geography, Vienna): Translocal Resilience. Environmental Change, Migration and Social Resilience in Rural Thailand

11 Feb 2021 – Ingo Krossing (Chemistry, Freiburg): Resilience in Chemical Systems and Processes
November 2, 2020: Coronavirus Pandemic and Relevant Policies and Measures
University of Freiburg: All policies and measures are announced on the University website. As of November 2, the level 5 measures of the University multi-​level-plan apply. All classroom-​based teaching is suspended.
University College Freiburg: All offices at UCF are closed to the public, including students. More information can be found on Ilias. In case of questions, please contact: las.consultation@ucf.uni-freiburg.de.
City of Freiburg: The city of Freiburg corona portal lists all current regulations in Freiburg and provides further information and links (in German).
State of Baden-Württemberg: Here you can find the current Corona Regulation in Baden-Württemberg as well as further information and links. The English version of the Corona Regulation is available here.
General information in English on the coronavirus and the current regulations and situation in Germany is available on the website of the Federal Government Commissioner for Integration.
October 15, 2020: Recent LAS alumni activities – "Just. Another. Month."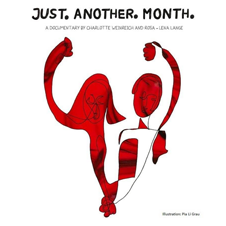 Two LAS alumnae, Rosa-Lena Lange and Charlotte Weinreich, produced a documentary called "Just. Another. Month." The film focusses on two Namibian activists engaged in improving access to menstrual products and women's rights. The local showing of the documentary this evening is, unfortunately, already booked out. Recently, the Badische Zeitung interviewed Rosa-Lena Lange about the film's production, content, and intention; the interview is available here. Further information about the film is hosted by the Freiburg Kommunales Kino.
The film was recently nominated for the Deutscher Menschrechts-Filmpreis 2020. The jury will announce the prize winners of 2020 at the end of October: So, we can hopefully expect more showings and general awareness!
UPDATE: We warmly congratulate Rosa-Lena Lange and Charlotte Weinreich for winning the Menschenrechts-Filmpreis 2020! Here you can read an interview of the filmmakers in unicross, here you can have a look at the statements of the laureates.
October 2, 2020: Course Catalog for Winter Semester 2020-21 out now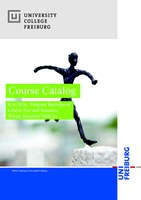 The new course catalog for winter semester 2020/21 is out now. Have a look at all the exciting and interesting courses that will be offered, like:
Drug Development and Regulation
Introduction to Tissue Engineering and Cellular Therapies in Regenerative Medicine
Sustainable Entrepreneurship and many more.
For course registration please carefully read pages 3 and 4.