News & Blog

Here and on

Facebook, we announce events and share UCF news and developments. For events and news at the University Freiburg, please see here.
18 November, 2019: Lecture by Jean Pütz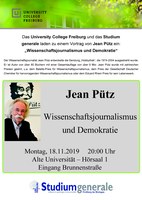 On November 18, 2019, University College Freiburg and the Studium generale invite you to a lecture by Jean Pütz: "Wissenschaftsjournalismus und Demokratie" (in German).

The science journalist Jean Pütz developed the TV show "Hobbythek", which was broadcast between 1974 and 2004. He is the author of over 80 books with a total circulation of over 6 million. Jean Pütz has been honored with numerous prizes, including the Batelle Prize for Science Journalism, the Prize of the Society of German Chemists for Outstanding Science Journalism and the Eduard Rhein Prize for his lifetime achievement.

When? Monday, November 18, 2019 20:00 h
Where? Alte Universität, HS 1, entrance via Brunnenstraße
28 October, 2019: LAS Graduation Ceremony 2019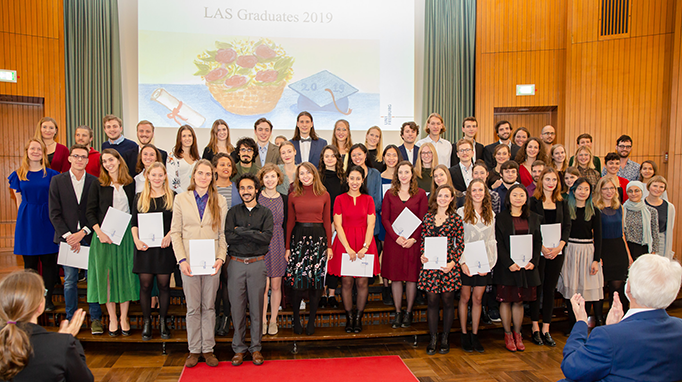 (photo by Uwe Nüssle)
On October 19, 2019, more than 200 people gathered in the Aula to celebrate the 4th LAS Graduation Ceremony. Students, staff, families and friends joined us to congratulate and bid farewell to the LAS Graduates 2019. Here you can find more information and photos.
23 October, 2019: FRIAS Lunch Lecture series WS 2019/20 starts
Starting on October 24, 2019, every Thursday FRIAS Fellows and guests offer 25-30 minute lectures for students and the (University) public, followed by 10-15 minutes of discussion. The lectures take place during lunch hour in the University´s centre in the middle of town.
This semester's series is on ""Models and Modelling across Sciences" and the introductory Lunch Lecture will be given by PD Dr. Tobias Henschen: "What is a Scientific Model?"
When? 12:15 – 1:00 pm (Thursday, October 24, 2019)
Where? Lecture Hall HS 1009 in Kollegiengebäude I (KG I), University of Freiburg
1 October, 2019: Welcome Week 2019
On Monday, October 14, our LAS Welcome Week 2019 begins. We are very much looking forward to welcoming all our new students.

We have an exciting week ahead of us: we want to introduce you to the people and the structure of UCF and LAS, give you a study outline on your foundational year, and provide some general information such as the modalities of course registration and academic advising. As you can see from our Welcome Week schedule, the UCF Students Council has also numerous fun activities planned so that you get to know each other and Freiburg.

Here you can already have a look at our Course Catalog, the Modul Handbook or get first impressions of Freiburg. This year the university provides an app for beginning students called "Studienstart – Uni Freiburg" that you can download for free for iOS and Android.
23 September, 2019: ΑΡΧΑΙΟΣ ΝΕΩΣ – research project with UCF's Prof. Gehrke
From the Acropolis to Olympia and back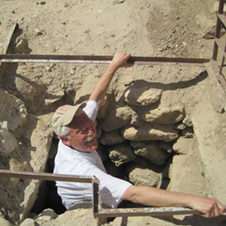 Prof. Achim Gehrke is a retired (?) Professor of Ancient History. To this day, he is curious and engaged as a teacher, supervisor, advisor, researcher… And he is an expert in many, if not all matters of classical Greek and Roman antiquity. Since 2015, he is part of a DFG funded historical-archaeological research project on the sanctuary Olympia: The multidimensional space of Olympia (Greece).
The DFG has now approved funding for a further interdisciplinary project that Achim Gehrke is involved in: "ΑΡΧΑΙΟΣ ΝΕΩΣ. Neue Studien zur archaischen Architektur auf der Akropolis von Athen" (The Old Temple. New studies on the archaic architecture of the Athenian Acropolis). This project again focuses on ancient Greece and will study the Acropolis – especially its archaic and early classical architectures and developments as well as its connections to the political history of the polis Athens – the cradle of Western Civilization and the birthplace of democracy.
19 September, 2019: New LAS Stories
In our LAS Stories, we gather all the testimonials we receive: from current LAS students, students who share their study abroad stories, to our LAS alumni who let us know what they are doing now.  Have a look at our newly published stories: Daichi tells us more about his fantastic time at the University of Warwick, where he studied abroad for a year. UCF alumna Swenja is back in her hometown and about to start her own business, after completing a Master's in Gender and Culture at the Swansea University, UK. Daniel, another UCF alumnus, found his passion in the Social Enterprise sector and is currently finishing his Master's degree in Philosophy and Economics. Thank you all for sharing this with us!
10 July, 2019: Erasmus Prize Award Ceremony
This year the Erasmus Prize for the Liberal Arts and Sciences was awarded to Lena Kulla, a LAS alumna, and to Alex Giurca, from the Institute of Forest Sciences of the University of Freiburg. Lena Kulla's prize-winning Bachelorthesis ""Factors Influencing the Incorporation of an Upper-Extremity Prosthesis into Everyday Activities – A Phenomenological Approach to Prosthesis Acceptance and Usage" deals with the socially highly relevant issue of the acceptance or rejection of prostheses. Dr. Alex Giurca undertakes an interdisciplinary analysis of the bioeconomy in his thesis "The Forest-Based Bioeconomy: Actor Networks, Policies and Politics in Germany and Northern Europe" and combines approaches from forestry, political science, economics and management theory with quantitative and qualitative methods. For more information, please see the University of Freiburg press release and our website.
We were very pleased and honored that the diplomat Martin Kobler gave this year's keynote speech. He talked about "Zerfällt die Welt? Erfahrungen mit Nation-Building im 21. Jahrhundert". This was especially interesting since Martin Kobler was, inter alia, German Ambassador to Egypt, Iraq, and Pakistan, as well as UN Special Representative in Iraq, Congo and Libya.
(Photos by Patrick Seeger)
26 June, 2019: EPICUR successful – a European-wide campus for 270,000 students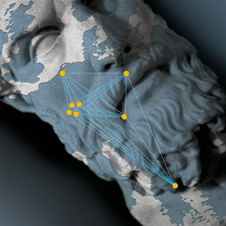 Eight Universities in six countries successfully joined forces for the "European Universities" call from the European Commission. The consortium EPICUR (European Partnership for Innovative Campus Unifying Regions) is now a pilot project for the European University of the future and will receive € 5 millions to design and implement innovative teaching and learning infrastructure and formats – formats that are geared to the new generation of European citizens, to face the great societal challenges of the Europe of tomorrow.
The project's pilot phase consists of several action programs, such as
promoting multilingualism and inclusive governance
implementing innovative methods of learning and teaching for the European citizens of tomorrow
establishing an interuniversity campus, using a student and staff-centered approach
strengthening and connecting regions through a European University
The EPICUR alliance is composed of eight partners: 
The EPICUR alliance places "Liberal Arts and Sciences Education" at the center of its project: one of the long-term objectives is the creation of a four-year "European bachelor of liberal arts and sciences", taught in English at several EPICUR universities. Two important starting points for this ambitious goal are the University Colleges in Amsterdam and Freiburg!
More information on the University of Freiburg PR page and at the Université de Strasbourg.
Credits map: entelechie/stock.adobe.com
Credits logo: photos: Chriso, entelechie/stock.adobe.com, photomontage: Jürgen Oschwald

12 June, 2019: UCF Speaker Series "Models Across Disciplines"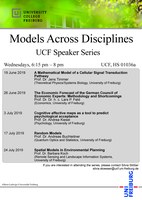 Across the disciplines, scientific models are of central importance. We use computational models to predict the climate for some future period; the ideal gas model to explain certain thermodynamic processes of gases; the double helix model to describe DNA molecules; dynamic-stochastic general-equilibrium models to justify economic policy decisions and so on. The immense importance of scientific models raises questions that do not necessarily surface in scientific practice, but can be quite perplexing. What is a model? What does it represent? How does it relate to theory? What purpose does it serve? Is it true or false?
The UCF Speaker Series, organized by PD Dr. Tobias Henschen and Dr. Simon Büchner, invites professors from different disciplines to talk about their "favourite" models. The talks and the models they cover are supposed to provide a starting point for discussions on intricate questions regarding the ontology and epistemology of models, their functions, and their use in research.
When? Wednesdays, 6:15 pm – 8 pm
Where? UCF, HS 01036a
If you are interested in attending the series, please contact Silvia Stößer.
3 June, 2019: LAS Students at the National Model United Nations
A few weeks ago, the LAS students Yigit and Linnea were part of the Freiburg University delegation to the National Model United Nations 2019 conference in New York. Prior to the conference, they visited the UN Secretariat, the United Nations Development Programme, and the United Nations Operations and Crisis Centre. They also spent time with the University of Freiburg's North America alumni chapter, networking with them and promoting their project. 
At the conference, Yigit represented the country of Colombia as a delegate at the Economic and Social Council (ECOSOC) while Linnea took part in the board of the UN High Commissioner for Refugees (UNHCR) as a rapporteur. Linnea also held a speech at the UN General Assembly Hall on behalf of the Freiburg delegation, aiming to raise awareness about humanitarian aid workers who suffer from mental illnesses. The Freiburg delegation received a Distinguished Delegation Award at the end of the conference for their collective NMUN performance.
We enjoyed our time in New York City and had an amazing opportunity to experience a realistic setting of the UN. It was thrilling to have a practical involvement in the arenas of international relations as well as global politics, and we truly appreciated the international atmosphere of the conference. Linnea and Yigit
24 May, 2019: LAS Students at the European Human Rights Moot Court Competition
Last month, four LAS students, coached by UCF's Dr. Stoyan Panov, took part in the European Human Rights Moot Court Competition (EHRMCC), an international human rights competition, intended to focus on the human rights activities of the Council of Europe and in particular the European Convention on Human Rights. The EHRMCC is one of the most competitive and prestigious moot court competitions.
The 7th edition of the EHRMCC took place in April 2019 coinciding with the 60th anniversary of the European Court of Human Rights, the main juris corpus of the Council of Europe. The case concerned cyber harassment, hate speech and gender equality within the framework of the European Convention on Human Rights.
The UCF team was among the 20 teams that qualified to participate in the highly competitive Final Oral Rounds Competition in Strasbourg on 15-19 April 2019. Kasia Schwartz, Nathalie Kornet, Julius Nebel and Paul Weber represented the UCF at the Competition. The UCF team reached the quarterfinals of the Competition and placed 5-6 overall from out of more than 100 registered teams in the Competition this year.
We congratulate the UCF team warmly!
The skills we acquired during this project can be used in all different sorts of situations in our lives, be it at job interviews, at stressful situations at work or at oral presentations in university. All of this taken together made this project simply incredible and one of the best experiences I had during my time in Freiburg! UCF team

May 21, 2019: 4th Liberal Education Student Conference in Berlin (May 2-5)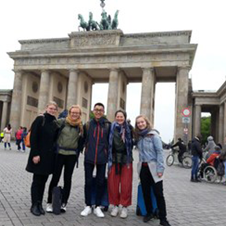 On May 2-5 2019, the 4th Liberal Education Student Conference (LESC) was held at Bard College Berlin. This conference engaged students with the question: "Liberal Education: In Conversation with Today's World of Tomorrow". Featuring invigorating conversations, guest lectures, and the core text: Nietzsche's "On the Advantage and Disadvantage of History for Life", participants from around Europe explored ideas from each others contributions and addressed questions on the role and future of liberal education in the following four domains: education, society, technology, and politics. Participants discovered differences and similarities which surround liberal education, and addressed varying views of what liberal education is and why such a conference as the LESC exist.
The 2019 LESC also featured the launch of angLES, a "trans-european, inter-university" liberal education students journal, a project designed to continue spreading and sharing ideas within and beyond the circles of liberal education. This journal provides a platform to extend the conversation about liberal education beyond the conference, as well as providing a close network for students with its imbedded peer-review process. Closing with stimulating questions, further knowledge, and inspirations, the LESC was a great advancement to the liberal education community in Europe.
May 13, 2019: Identifying the Blind Spots – Interdisciplinary Perspectives on Sustainability
The complex issue of sustainability necessitates cooperation of different actors and disciplines: In the light of current socio-ecological crises, a shift towards interdisciplinary approaches is indispensable. The lecture series "Identifying the Blind Spots – Or what we don't know: Interdisciplinary perspectives on the issue of sustainability" shall create a room for open dialogs, where the confrontation of different perspectives leads to the identification of their respective blind spots.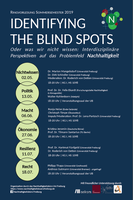 The goal of this lecture series is to determine and critically reflect the ignorance resulting from isolated views of individual disciplines and, further, to make room for synergies. Not only do we want to address questions, which we as a society may or may not have an answer for; rather, the focus shall lie on finding those questions that are usually not even asked – the blind spots.
Next lecture:
"Sustainability and Politics", Monday May 13th, 6-8pm, Veranstaltungsaal UB
Prof. Dr. Dr. Felix Ekardt (Forschungsstelle Nachhaltigkeit und Klimapolitik)
Walter Kahlenborn (adelphi Berlin)
Moderation: Dr. Steffi Ober (Forschungswende)
Organized by the student initiative "Nachhaltigkeitsbüro Uni Freiburg" and sponsored, among others, by the UCF Students Council.
May 8, 2019: New Project at UCF "Wissenschaft – Technologie – Gesellschaft"
Starting in winter semester 2019/20, UCF offers three seminars entitled "Wissenschaft – Technologie – Gesellschaft". The seminars are taught in German and open for bachelor and master students of all faculties. In these seminars, students explore together with experts how science, technology and society are mutually dependent and which social-ethical questions accompany new scientific and technological developments. The seminars offer students the opportunity to engage in interdisciplinary teams with selected scientific and technological developments, to examine their social implications and to present the resulting findings in a generally understandable way. Here you can find more information on "Wissenschaft – Technologie – Gesellschaft".
We warmly welcome Dr. Marie Muschalek, the new coordinator for the project, at UCF!

April 23, 2019: FRIAS Lunch Lectures on Intelligences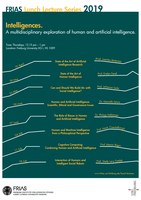 It's Lunch Lectures time again! Starting this Thursday, April 25, FRIAS Fellows and guests offer 25-30 minute lectures for students and the public, followed by 10-15 minutes of discussion. This semester the FRIAS Lunch Lectures deal with "Intelligences. A multidisciplinary exploration of human and artificial intelligence."
When? Thursdays, 12.15  – 1.00 pm
Where? Lecture Hall HS 1009, KG I
Here you can find more information on the Lunch Lectures.
March 25, 2019: LAS 2019 Application and Admissions Information
We know that applying at a university can be challenging. To make the LAS application and admissions process as understandable and transparent as possible, we have updated our guidelines for you.

The application and admissions section of our website provides information that guides you through the process of applying to the LAS Program at UCF.

Please note: The application period for the LAS Program is June 1 – July 15, 2019. But, of course, you can and should start preparing all necessary documents as early as possible. And we encourage you to join us for our LAS Open Days on April 12 and June 7, 2019 and/or get in touch with us with your questions.

We look forward to your application!
March 18, 2019: Virtual Reality in Toulouse
Ivan, student of the Major Life Sciences, did an internship as part of his Electives at the University of Toulouse in winter semester 2018/19. We are glad that he shares his experience with us:
"During their studies at UCF, Life Sciences students must complete the Lab Practice module. This module gives insights on practical aspects of research in natural sciences, students experience lab's everyday life and get the idea of main approaches to experiment design, while participating in current research or conducting their own. In my case, I wanted this module to be tightly connected to my bachelor thesis, that is why I was very happy to be accepted to complete my lab practice at Prof. Dr. Andrew Straw lab for Animal Physiology, Neurobiology and Behavior at the University of Freiburg. […] Imagine my surprise when I was invited to continue my work at the University of Toulouse within CNRS. Dr. Antoine Wystrach and Dr. Sebastian Schwarz study ant's navigation and were very interested in building a system similar to Dr. Straw's Virtual Reality arena…" Read more.
Pictures by Ivan Sukhov. Thank you.
February 27, 2019: EES Study Trip to Geneva
Recently a group of 25 students participated in a study visit of the Major Earth and Environmental Sciences to the environmental institutions of United Nations: the World Meteorological Organization, the Food and Agriculture Organization, and the United Nations Environment Programme. They learned from experts in the field about the opportunities and challenges they face with global environmental governance as they fight starvation, promote green technologies, manage disaster risks, collect geospatial data, and combat climate change. More pictures and info on the two-day study trip can be found here.
The study trip was possible thanks to support by the Verband der Freunde der Universität Freiburg.
February 20, 2019: Discussion with UCF's Dr. Plumley and UCF Alumna Stella Rutkat
At the round of talks on "Perspectives on 20 years of Vagina Monologues", organized by the maniacts, the English department drama group, both UCF's Dr. Ryan Plumley and LAS Alumna Stella Rutkat took part. Together with Dr. Esther Gaertner, gynecologist and co-founder of the mentoring network of the Deutschen Ärztinnenbund, and Simone Thomas, women's representative of the City of Freiburg, they openly talked about how far we have come along, 20 years after the Vagina Monologues by Eve Ensler. What about the rights and self-determination of women today - sexually, politically and legally? The discussion was moderated by Maria-Xenia Hardt, who was also a UCF Teaching Fellow last summer semester. Here you can find more information on the event.
Pictures by Simon Sahner
February 6, 2019: Fourth-year Students Conference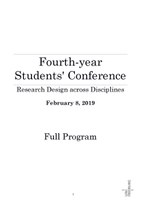 At the Research across Disciplines Conference fourth-year students will present their research designs and potential Bachelor's theses within panels, like:
Climate and Technology / Values / Environmental Justice / Fast Fashion / Gold Mining / Food and Health / Migration and Minority Protection / Security of Basic Needs: Energy, Income, Food / Political Criticism / Feminism and Gender / Colonialism and Warfare / Cultural Controversies
Here you can find the program of the conference with all topics and short descriptions.
When? Friday, February 8, 2019, 8:15 – 18:20
Where? KG 1023, after the lunch break KG 1139, KG 1132, Peterhof Room 3, Conference Conclusion: KG 3042, 17:20 –18:20
February 5, 2019: Internship and Practical Projects in LAS Showcase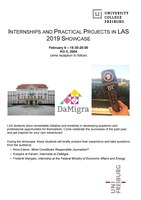 The Electives allow students to supplement their Major and to shape their specific academic profile. Some students use the Electives for an internship or a practical project. By doing so, they show remarkable initiative and creativity. To celebrate the successes of the past year and get inspiration for new adventures, we invite you to the Internships and Practical Projects in LAS 2019 Showcase.

When?  February 6, 2019, 18:30 – 20:00
Where? KG II, room 2004
Students will briefly present their experience and take questions from the audiance. The event is followed by a wine reception.
February 1, 2019: 4th Liberal Education Student Conference calls for Proposals
January 30, 2019: Job Offers at UCF
UCF is seeking to hire two Tutors for the introductory statistics course "Dealing with Numerical Information" and a Teaching Assistant for the Major area of Culture and History. Interested? Here you can find more information.
We are looking forward to your application.
January 28, 2019: Talk by Dr. Ingmar Hoerr, MBA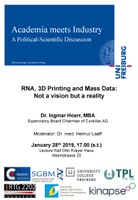 Next week Dr. Ingmar Hoerr, MBA, Supervisory Board Chairman of CureVac AG and its CEO til 2018, will give his talk on "RNA, 3 D Printing and Mass Data: Not a vision but reality". The talk is part of the seminar series "Academia meets Industry", which aims at stimulating transdisciplinary discussions between university members and high profile managers. Here you can find more information.
When? Monday, January 28, 2019, 17.00 (s.t.)
Where? Lecture Hall Otto Krayer Haus
            Albertstrasse 25
January 16, 2019: LAS goes Robot
Curious what happens in the course Robot Design – Theory, Practice, Philosophy? Have a look:
7ec7790c7053d75e03897d15eee8cbfa
More information on the course Robot Design – Theory, Practice, Philosophy can be found in our course catalog. The course is kindly supported by Stura, thank you very much.
January 7, 2019: Key Dates for 2019
For prospective LAS students, we would like to announce the following key dates for 2019:
1. LAS Open Days
In spring 2019, UCF will again open its doors for prospective students. The Open Days 2019 will take place on Friday, April 12 and on Friday, June 7. More information is available here.
2. Application Period
The application period for starting the LAS program in October 2019 is June 1 – July 15.
3. Interview Week
The LAS selection interviews will take place from in the week of July 29 – August 2. Please see our Application and Admissions page for more information; and please note that we will update our application guidelines early 2019.

December 19, 2018: Happy Holidays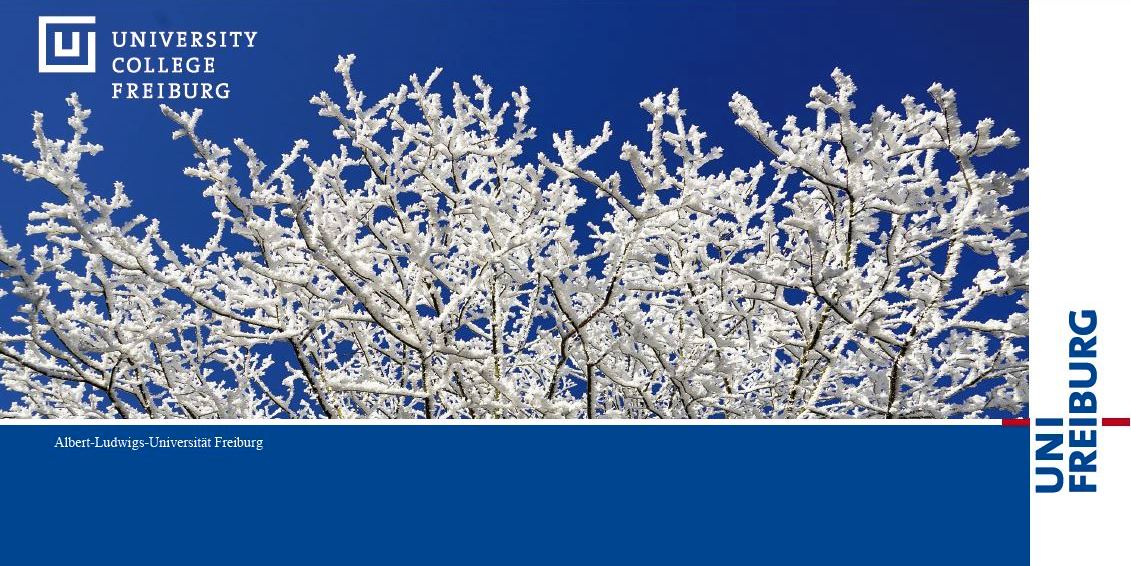 We would like to thank all our supporters – students, staff, professors and many friends – for their commitment over the past year. It was an eventful year with many positive developments for UCF.
We wish everybody peaceful and inspiring holidays as well as a great start into the New Year 2019!
UCF