Foundational Year

The Foundational Year is the starting point of your LAS studies at University College Freiburg. It provides students a broad and structured entry into the academic world and establishes a shared basis of skills and knowledge. The Foundational Year has four main parts:
1. Academic Key Skills (LAS Core)
2. Perspectives on Knowledge (LAS Core)
3. Responsibility and Leadership (LAS Core)
4. Introductions to Majors (LAS Major)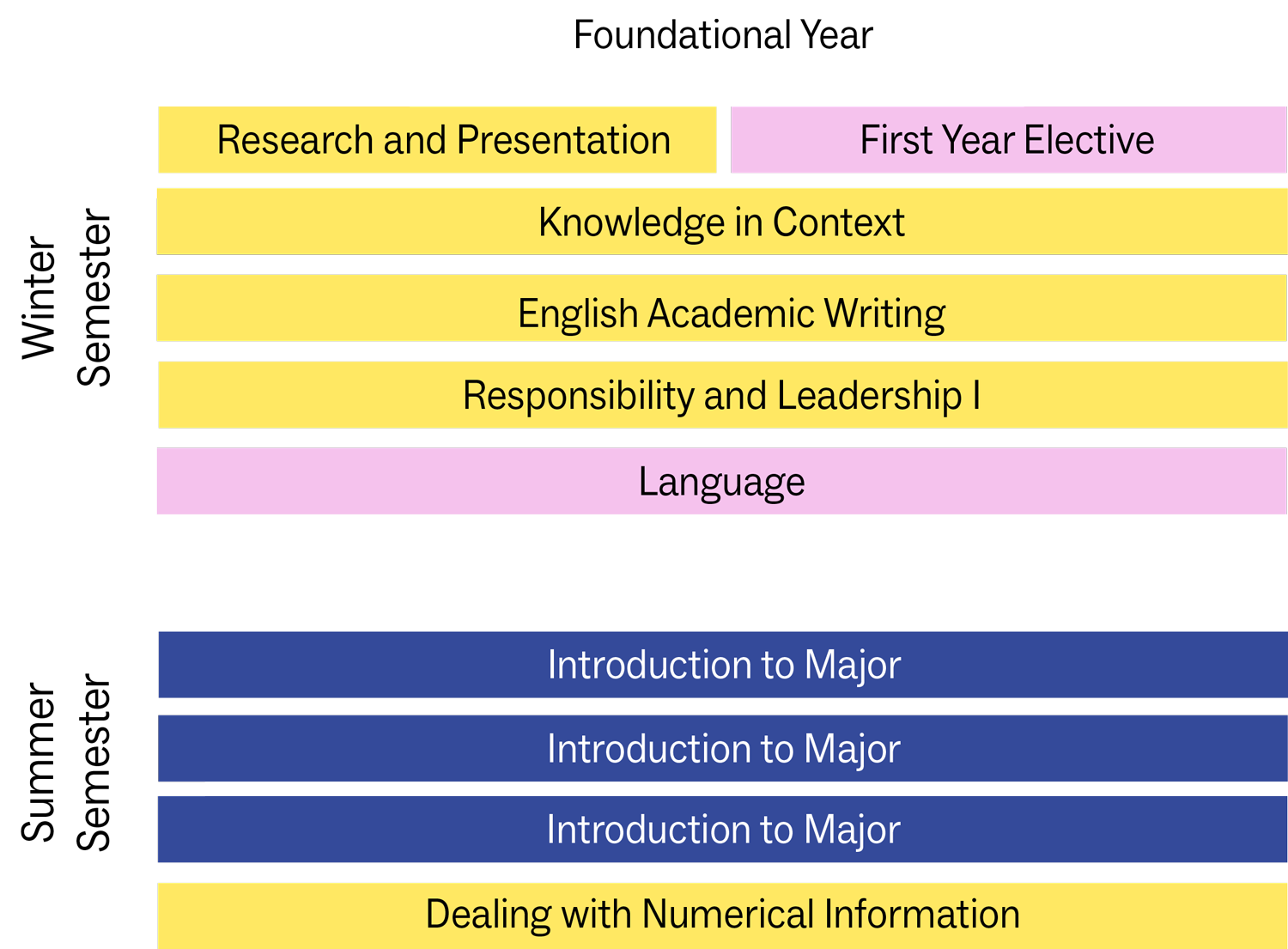 In the modules "Research and Presentation" and "English Academic Writing", students develop and sharpen their academic key skills, learn how to undertake research by working with academic literature and sources, and how to present a topic to a particular audience both in oral and in written form. The starting point for these courses are complex real-world topics such as "Aspects of Communication", "Internationalism", "Water Sustainability in a Changing World", or "Transformations of the Public Sphere". In the Summer Semester, students learn how to use numerical data in both academic and non-academic settings in the course "Dealing with Numerical Information."
As a basis for academic and scientific work across disciplines, first-year students take the first of four modules on Reflections on Knowledge and Science. Here, students are introduced to three of the key issues in Liberal Arts and Sciences: interdisciplinarity, methodological choices, and critical thinking. The study of knowledge in various historical, social, political, and practical contexts helps students to develop their individual study paths.
3. Responsibility and Leadership I
This part of the curriculum helps students develop their capacities to act responsibly in academic, professional and personal contexts. It combines academic approaches from a variety of disciplines with personal reflection.
4. Introductions to Majors
In the Summer Semester of their Foundational Year, students are required to participate in the introductory courses for three of the four LAS Majors:
The Introductions familiarize students with the breadth of academic fields and enable them to make a well-informed choice of their own Major.