Stefan Adler: Program Manager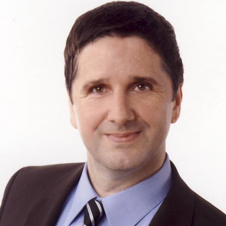 After his studies in Biology at the University of Freiburg, Stefan conducted projects on environmental issues at the Institute of Environmental Medicine and Hospital Epidemiology of the University Hospital Freiburg. After 3 years with the German Energy Agency (dena) in Berlin working on the Solar-Uni Freiburg project, he helped set up the Centre for Renewable Energy of the University of Freiburg, two graduate schools, a continuing education program MSc Photovoltaics and a master program MSc Renewable Energy Engineering and Management, which he is still coordinating.
Stefan joined UCF as Program Manager in April 2022.
stefan.adler@ucf.uni-freiburg.de
Tel. +49 761 203-4416
Room 01069a
At UCF, Stefan's LAS responsibilities include:
Support for the Dean of Studies, the Boards of Studies and Examiners, and the Selection Committee
Teaching Fellow support and administration
Organization of the applications and admissions process
Information management, including course evaluations, student data, and capacity calculation
Oversight of the annual planning, meetings, and the academic calendar
Involvement in further tasks such as advising and outreach