Student Life

---
Student Life in Freiburg: LAS students share their favorite spots!
The College – An international community at the University of Freiburg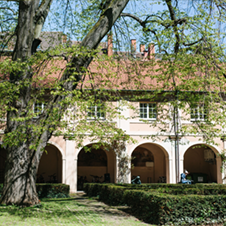 With about 300 students from over 40 countries and with a focus on activating and small-group learning, UCF offers a close-knit community as well as support measures especially for new students.
Student committees, interest groups, a common and a reading room, and many events contribute to the familiar UCF atmosphere. And LAS students are engaged in many intellectual, cultural, and social projects and initiatives. For impressions of what's going on at UCF, please see:
The University of Freiburg – Over 560 years of academic excellence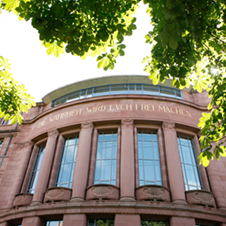 The University of Freiburg is among the oldest and most renowned in Germany and is ranked among the best. It has partnerships with top universities, research institutions, and businesses around the world and offers a cosmopolitan atmosphere in one of Germany's most charming cities. 25,000 students are enrolled, 18% international.
The University has even more to offer: from sports to arts, you can find all sorts of student activities. For information, please see:

Some video impressions: Join us on a Campus Tour!
The City of Freiburg –
Germany's sunshine capital between the Black Forest, France, and Switzerland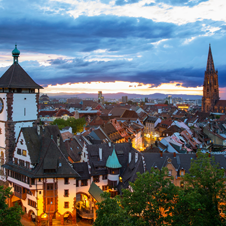 The "Green City" Freiburg in the Southwest of Germany is known for its idyllic location on the edge of the Black Forest, excellent recreational offerings, high environmental standards, vineyards, and its University. Freiburg has 230,000 inhabitants and a very special mix of tradition and innovation, of regionalism and cosmopolitanism. It has all the benefits of a beautiful student city, with a strong academic setting in the sunniest and warmest part of Germany.
Freiburg and the Black Forest offer a wide range of sporting activities from skiing/snowboarding, mountain biking, to sailing, hiking, and many more. And you can spend your free time in one of the many museums Freiburg and at the Upper Rhine Valley.
The following websites have information on social and cultural activities in and around the city and university:

Living in Freiburg – Housing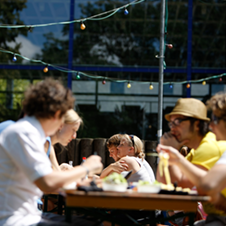 Like most student cities, finding housing in Freiburg can be challenging. LAS is a non-residential program, UCF does not offer housing. Students in Freiburg typically live in shared apartments, rooms in private houses, or in student dorms. Shared housing is a great way to get to integrate into the student community. Monthly living costs in Freiburg are about €750 (including housing and health insurance).
We recommend you start looking for an accommodation as soon as possible. The LAS students run a room exchange Facebook group. 
Below are a few other links to start searching for an accommodation (Important: Do not pay/wire a deposit to an agent or broker (e.g. to look at a place or for the keys) you have not met in person. Make sure the room actually exists. This may likely be a scam.):


Scholarships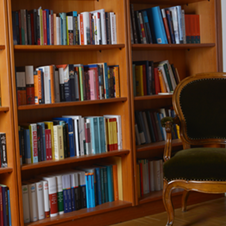 Do you want to apply for a scholarship? Here you can find more information on financing your studies:
Stipendienlotse – scholarship database from the Federal Ministry of Education and Research (in German)

Tuition Fees: The State of Baden-Württemberg charges tuition fees for non-EU students (€1,500 per semester) and for students seeking a second Bachelor or Master's degree (€650 per semester). For more information, including exemptions, please see the University Student Service Center.
Impressions from Freiburg, the University Campus and UCF