Experiences

The maps below show where LAS students have gone in the past academic years. To prepare for your stay abroad, have a look at study abroad testimonials of LAS students, such as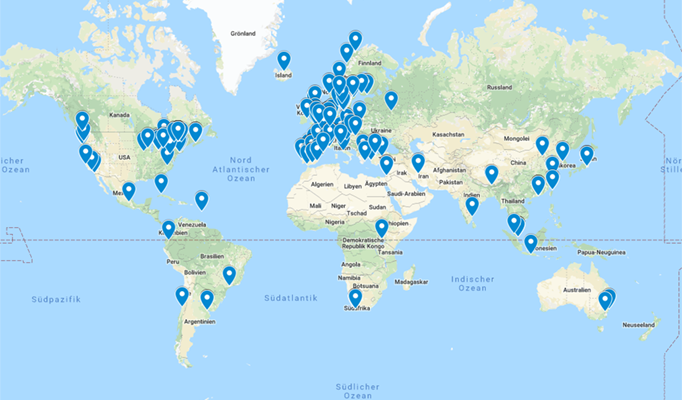 Study Abroad Destinations 2014-2019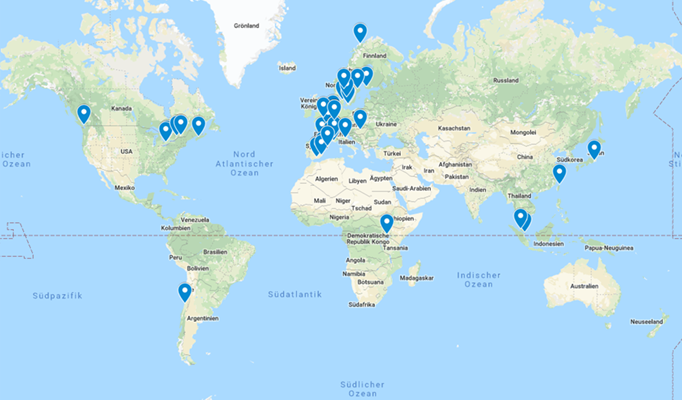 Study Abroad Destinations 2019-2020
Daichi, Class of 2020: Studying at Warwick – A Fantastic Experience
Studying a year at the University of Warwick was a fantastic experience in which I could step up on higher stage in both academic knowledge and personal development. Warwick is a hub for innovative scientific research and entrepreneurial business, where active students from all around the world study.
My main motivation for studying abroad was to have better academic opportunity, specifically freedom in choosing courses. Since I'm an international student at UCF, having not sufficient language proficiency in German to take courses from Uni Freiburg, going to an English university was a good choice to deepen my academic interest. In addition, I was simply interested in how things go and people think in the process of Brexit. After all, I think I learned precious knowledge about British policy and democracy.
Student life in Warwick is truly exciting, enjoyable and critical for personal development. Opportunities are out there. You just need to stay active! In University of Warwick, there are a variety of student activities from cultural societies, sports club, political societies, to business related societies. It would be fantastic experience if you can get involved in one of society. Even if you can't, you can go to events held by them. Almost every week there is a seminar or conference organized by a society such as Warwick Entrepreneur, Warwick Business School Society, Warwick Engineering Society, Global Sustainable Development Society … etc. You can learn about cutting edge technology and business from experienced guest lectures. You are definitely able to find something interesting! 
Academic life in the university was also very fulfilling for me. My home department in Warwick, Liberal Arts, allowed me to take a variety of modules across the university including Warwick Business School which is one of the best business schools in the UK. I took modules from 4 different departments. You can use that flexibility to pursue your academic interests. It is also notable that the university has the richest ethnic diversity in the UK. There are students from all across the world. Half or sometimes two thirds of classroom is occupied by internationals. You can exchange culture with much more people here in Warwick, which might enlarge your view to see the world.
My exchange year in England was a truly precious time which provided me with opportunities to specialize my academic interest, meet some inspiring people and drive higher motivation and curiosity. I know Freiburg is lovely city. It's so comfortable to live. However, now I can say that it's significant to get out of your comfort zone and to learn in a different environment, face challenges and talk with new people. University of Warwick is definitely the right place to study, especially if you are interested in business. It's resourceful, modern and highly diversified university. You can find new color to paint your canvas.

Lydia, Class of 2016: Studying at NU Singapore? Definitely yes!

Anyone who's interested in Asia, won't be able to ignore Singapore, since it is economically and politically one of the most important locations in South East Asia. Besides Singapore's relevance for Asia's development, and thus the global system, there are many other good reasons to spend one or two semesters in the city-state. I was particularly interested in the peaceful coexistence of very different cultures in a confined space. As a complete Asia newcomer it was really exciting for me to get an insight into the Chinese, Indian, Malaysian culture and many more. Especially the numerous public holidays, such as Diwali, the Indian Festival of Lights, but also just a visit to the districts of Little India or Chinatown, offer a good opportunity to experience different cultural traditions and everyday life. And of course, one should not miss the numerous restaurants, since Singapore is famous for its culinary diversity.
I was very pleased with my classes at the National University of Singapore (NUS). There is a great range of course offerings at the university, including faculties such as Southeast Asian Studies which are unique to the region. In each course, I had both lectures and tutorials, which did not differ too much from the structure in Freiburg. There was a lot of discussion, presentations and group work involved. In addition to university courses there are still a million other things to do on campus. There are countless sports clubs, as well as theater groups, bands and more. As I took part in the International Office program exchange, administration was well organized and the tuition fees at NUS were waived which is a great advantage. If you are freed from tuition fees and have accommodation on campus, living costs are comparable to Freiburg. Hence, financing your studies in Singapore is feasible, even without a scholarship.
Adapting to a different system and environment was sometimes challenging but definitely worth it. Besides the enriching experience of the stay itself, I have found many new friends and discovered a part of the world, that I didn't know before. My expectations on the semester abroad were thus more than met in Singapore.
Matthias, Class of 2018: Double Degree at University College Maastricht
I spent the academic year 2016/2017 at University College Maastricht (UCM) doing the Double Degree Program. My decision to study at UCM was motivated by two main (academic) reasons. First, to obtain an additional independent degree from a renowned university. Second, to take advantage of UCM's broad range of high quality courses. After getting accepted into the program, I was guided through all further steps of registration. Signing up for courses was easy and convenient. While it is important to remember UCM's graduation requirements, there is still a great degree of freedom concerning which courses you can take. Overall, UCM's administrative body is very fast and reliable and I never encountered any bureaucratic issues.
The greatest benefit of studying at UCM is arguably the tremendous learning experience that one can get. Given that I do not have another experience of studying abroad that I could use for comparison, I still believe that the quality of learning and teaching at UCM is exceptional for several reasons. First, the amount and variety of courses offered is huge. This allowed me to both gain a deeper understanding of international relations and to broaden my intellectual horizon by taking courses in other disciplines such as sociology. Second, the quality of courses is really high. Except for one outlier, I genuinely enjoyed all classes at UCM and was furthermore able to acquire valuable academic skills. Third, both students and teachers actively contribute to a good learning outcome. UCM employs Problem-Based Learning through-out all courses, which enables independent learning and facilitates insightful discussions. Additionally, classes are small in size and the willingness amongst peers to prepare and participate is high. Finally, just to state the obvious: You receive an additional independent degree, which might be helpful for master's programmes, internships, or job applications – especially abroad.
Thus, the Double Degree Program means having a particularly intense year of academic work. After all, you are basically doing an entire degree in a year, meaning that every course and every grade has special significance. Although I was aware of this before-hand, and do not regret my decision at all, the ability to follow interests, thoughts, and goals outside of university is something that I did miss. One of the things that I have learned to strongly appreciate about LAS in Freiburg is the fact that we have four years in which we can learn about both academia and ourselves.
Doing the Double Degree provides you with arguably the greatest educational opportunity for your stay abroad. I have genuinely enjoyed most of my time in Maastricht and learned incredibly much. UCM, its staff, and its students have had a great influence on my development. When considering this program, just be sure that you are aware of the intense workload and willing to sacrifice some other activities.

Lara, Class of 2016:

Penn State – A Place to Meet the Nittany Lion

My stay abroad (1 semester) at the Schreyer Honors College (SHC), which is a part of the Pennsylvania State University (PSU), was a great experience. I had a wonderful time meeting awesome people, having fun and interesting courses, and seeing new places. Special about the Schreyer Honors College (SHC) - UCF exchange are the weekly meetings with Penn State students that will go to Germany. Personally, I enjoyed the discussions about diverse and interesting topics. Penn State is a great place to spend a diversified stay abroad. Even though it lies somewhat "in the middle of nowhere", Penn State is still close (4h bus ride) to New York City as well as Philadelphia, which makes it an ideal place to experience two great North American cities even on a weekend trip or during Thanksgiving break. Also, Penn State is a good place to spend time outside. Mount Nittany is close-by and an offers nice hiking routes. If you want to meet the Nittany Lion, Penn State's mascot, it is best to dive into the American Football culture and spend much time tailgating during football season. In the end, Penn State offers a variety of committees and clubs to join.

Every-day life in Penn State is somewhat different from Freiburg. When studying at Penn State as an exchange student, one usually lives on campus, which means to live in large dorms, sharing rooms (which is lovely when having a great roommate), and usually eating in dining halls that offer a variety of foods because there are not many cooking facilities. Penn State is situated in a university town called State College, which very much developed to serve the needs of a large university. Therefore, while on campus, there is not much of a mix between students and people outside university as there is in Freiburg.

Academically, Penn State offers a large and varied course catalogue. The course structure does not differ much from UCF courses, so that lectures are often accompanied by seminars. During my study abroad, I could take courses that helped me focus and further my personal academic interest, namely combining environmental sciences with communication and sociology, which made my time abroad an irreplaceable step in my academic live.

Overall, I am absolutely satisfied with my stay abroad and it helped me tremendously to refine my personal academic interest. I met many great people and experienced new places. If I were in the situation to decide anew where to spend my time abroad, I would definitely go there again.

Nagihan, Class of 2018: University of Sydney – A Stay that Changed my Life
I had set my eyes on Australia after meeting an exchange student from Brisbane and becoming good friends with her. As I was researching the options within Australia, particularly after having a look at the courses offered, it piqued my interest academically as well. There were just too many interesting courses I could take. The whole process, from the first application to the International Office to the very last minute in Australia, went smoothly.
As a culture and history student, I was spoiled with the course options and could therefore manage my weekly schedule as I wished. Some courses are specifically designed for exchange students such as: Australian sports, in which you will watch several Australian games; Australian stage and theatre, in which you will go to theatre plays and watch and discuss Australian films and culture; and outdoor learning like camping in the Blue Mountains. These courses are both a lot of fun and it is a good starting point to get to know the Australian culture. Outside the courses, there are numerous organized leisure and orientation activities for exchange students, like walking tours to major attraction points of the city, or parties in the Manning Bar at the campus. Both Sydney and the University of Sydney host a number of events, conferences and festivals. There is always some special event going on at the campus and/or in the city. Getting bored or having two identical weeks can hardly be justified in this city.
I had applied for the exchange program in Australia with the expectations of seeing somewhere new and exciting, improving my language skills and meeting new people. My actual stay, however, has far exceeded my expectations and provided me with a unique experience that I will forever be thankful for. It also wouldn't be an overstatement to say that it changed my life.
From academic perspective, I changed my mind about my future profession after having a course about historiography. I found it most influential and appealing and I am now resolved to pursue my studies in classical history. I would definitely consider applying to University of Sydney for graduate/post graduate studies in the future. I think that going for this exchange year was one of my best decisions. I've learned and experienced more than I expected, both about Australia and about myself. It was a continuous journey of exploration, an almost constant feeling of discovery and adventure, learning something new, meeting someone new, making (hopefully) life-long friends. Whatever reservations you might have about going to Australia, don't let them intimidate you. In the end, it will be your best decision as well – I am sure of it.

Piet, Class of 2018: University of Hong Kong – An Unforgettable Year
All in all, I can greatly recommend my stay – it was an amazing last year. There were many positive experiences I made and a few negative ones as well. As all of these brought me forward, I would not want to miss a single one of them.
Once I was accepted at the University of Hong Kong (HKU), the tough part of preparing for the stay was already over. Although there were some further information and documents needed, the Freiburg International Office was very helpful to make things go smoothly. It really pays off to timely start looking for a place to live in Hong Kong. Rents are incredibly high, which is why most students including myself apply to live in more affordable student dorms. As if rent itself was not high enough already, living costs in Hong Kong can be quite high as well. The HKU campus is really nice. It is located halfway up a hill between countless skyscrapers with a view over Kowloon's western front and the sea. The Main Building has a nice colonial architectural style to offer while the centennial campus was built just a few years ago – modernity and tradition are found very closely to each other in a place as crowded as Hong Kong.
I was generally very satisfied with the courses HKU offered me as exchange student. I could choose from courses offered from at least a dozen of different departments and institutes. As a politics student, the current political tensions over Hong Kong's status in the world and its relationship to the mainland were extremely exiting to learn about from the city itself. Studying in Hong Kong was great to experience both difficulties and chances of mixing a Hong Kong and mainland Chinese mindset concerning studying style and the intentions behind learning with a Western style university that clearly orientates itself at liberal and humanistic ideas developed in Europe and the United States.
Hong Kong is an immensely interesting construct somewhere between a city and a state – in general and even more for those interested in contemporary politics. It was a unique experience to experience both richness and tension arising from such situation first hand – be it lecturers asking to have the door closed before they commence talking about their stand on the 'Hong Kong issue' or a Hong Kong local joking with his mainland friend at high table dinner because they have difficulties to understand each other's accents. This sometimes-bizarre situation paired with the (mostly) high quality courses at HKU made it an unforgettable year that I would never want to miss.