Dr. Steven Randall: EPICUR Project Manager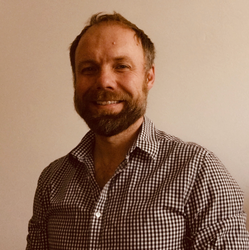 Steven Randall received his Ph.D. in  Second Language Acquisition & Teaching at University of Arizona (UA) with an emphasis in Language Use and ESL. From 2008 to 2020, he served in various roles at the UA Center for English as a Second Language, most recently as Associate Director of Academic Programs in charge of curriculum coordination and development.
He has taught credit courses on the subjects of Urban Multilingualism, Memes, and Language Program Administration.  He has also taught course modules on research design, with emphases in case study methodology and qualitative research design.  Finally, he has spent the past several years developing and teaching academic ESL courses to pre-matriculation international students at all proficiency levels.  
As project manager and lecturer for the EPICUR European Universities Initiative, he is responsible for developing and piloting collaborative teaching and learning for the Track Core, the foundational general education track of the program.  
steven.randall@ucf.uni-freiburg.de
Room 01066
Phone: +49 761 203-67938
---
Short Vita
12/2016: Ph.D. – Second Language Acquisition & Teaching, University of Arizona
5/2006: M.A. – German Studies & Language Pedagogy, University of Arizona
6/2002: B.A. – German, The Ohio State University
8/1999-8/2000: Study Abroad, Albert-Ludwigs-Universität, Freiburg, Germany
Previous Positions
2017-2020: Associate Director, Academic Programs at the Center for English as a Second Language, University of Arizona
2018-2020: Affiliate Instructor, Department of Public and Applied Humanities, University of Arizona
2016-2017: Assistant Director of Curriculum Articulation & Academic Programs, Center for English as a Second Language, University of Arizona
2009-2016: Intensive English Program Coordinator, Center for English as a Second Language, University of Arizona
2008-2009: Nogales, Sonora (Mexico) Program Coordinator, Center for English as a Second Language, University of Arizona