Sarah Fründt


Sarah Fründt, M.A., born in 1984, studied Social Anthropology, Palaeoanthropology, Legal Studies and Comparative Religious Studies at the Eberhard Karls Universität Tuebingen, Germany, and Social Anthropology, Legal Studies and Comparative Literature at the University of St. Andrews, Scotland, and the Rheinische Friedrich-Wilhelms-Universität Bonn.
In 2011, she finished as Magistra Artium (equivalent to Master of Arts) with a study asking how to deal with human remains in museums (based on the respective collection of the Übersee-Museum Bremen). It was published as "Die Menschen-Sammler" the same year. One year later, she completed an additional Diploma in Forensic Anthropology at the University of Central Lancashire (UK).
Building on several placements and projects in the national and international museum field since 2006, she then worked for two years as a freelancing exhibition assistant and co-curator for the Rautenstrauch-Joest-Museum – Kulturen der Welt in Cologne, taking part in the development of the exhibition "Made in Oceania: Tapa – Art and Social Landscapes".
From October 2013 onwards she was a research assistant at the Cluster of Excellence "Normative Orders" at the Frobenius-Institut/Goethe-Universität Frankfurt am Main. She worked on a project looking at "Restitution politics of German-speaking museums of ethnology since the 1970s".
Since July 2015 she is a research assistant at University College Freiburg.
 
Research Projects
"If Races Don't Exist, Why Are Forensic Anthropologists so Good at Identifying Them?"  Anthropology and Metric Ancestry Estimation. A Critical Examination of FORDISC and CRANID (PhD project).
For more information about the PhD project please click here.
Reactions to repatriation requests in the German museum scene (on-going research project)
 
Research Interests
Interdisciplinary Anthropology, History of Biological and Cultural Anthropology, Museum Studies, Postcolonial Museology, Debates on Human Remains and Sensitive Objects in Museums (including Repatriation and Restitution Debates), Visual Anthropology and Ethnographic Films
 
Publications
2016: "Return logistics – repatriation business. Managing the return of ancestral remains to New Zealand". In: Hauser-Schäublin, B. and L. V. Prott (Eds) Cultural Property and Contested Ownership. London: Routledge, pp. 178-197. (Forthcoming/in print)
2016: "A Fijian bark cloth in Cologne: embodying relationships past and present" (co-authored with Steven Hooper, Petra Czerwinske, and Joni Madraiwiwi). In: Mesenhöller, P. and A. Stauffer (Eds). Made in Oceania: Proceedings of the international symposium on "Social and Cultural Meanings and Preservation of Oceanic Tapa" held at the Rautenstrauch-Joest-Museum – Kulturen der Welt, Cologne 16-17 January 2014 (Forthcoming/in print) 
2015: "Wer spricht? Ethnologische Museen und postkoloniale Herausforderungen". In: Hoins, K. and F. von Mallinckrodt (Eds). Macht, Wissen, Teilhabe. Sammlungsinstitutionen im 21. Jahrhundert. Bielefeld: Transcript, pp. 97-108.
2013: "Alle anders, alle gleich? – Internationale Repatriierungsbewegungen". In: Stoecker, H., Schnalke, T. and A. Winkelmann (Eds). Sammeln, Erforschen, Zurückgeben? Menschliche Gebeine aus der Kolonialzeit in akademischen und musealen Sammlungen. Berlin: Ch. Links Verlag, pp. 323-338.
2012: "'The tūpuna should come home'. Internationale Repatriierungsbewegungen am Beispiel des Karanga Aotearoa Repatriation Programme". In: Wieczorek, A. et al. (Eds) Der Kult um Kopf und Schädel. Interdisziplinäre Betrachtungen zu einem Menschheitsthema. Heidelberg – Ubstadt-Weiher – Basel: Verlag Regionalkultur, pp. 139-147.
2012: "Gebeine und Gesetze. Internationale Vereinbarungen zur Repatriierung menschlicher Überreste". In: iz3w 331: 34-35.
2011: Die Menschen-Sammler: Über den Umgang mit menschlichen Überresten im Übersee-Museum Bremen. Tectum Verlag: Marburg (published Magister thesis)
2010: "Human Remains and Repatriation Requests – The Controversial Heritage from Early Days of Anthropology". In: Proceedings of the 4th Meeting of Junior Scientists in Anthropology. 25.-28. March 2010, p. 49 
 
Teaching
WS 2015/2016 (Block II) Museums and Sensitive Objects (00LE62S-LAS-CH0012)
 
"Sonstiges"
Sarah Fründt is editor and main contributor of a bilingual blog on "Museums and Responsibility" 
She is also member of an emerging international scientific network for provenance research and sensitive objects in museums.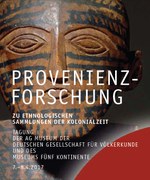 In 2017, she co-organized a conference on "Provenance Research on Ethnological Collections from Colonial Times" in Munich (April 7–8), hosted by the Museum Working Group (AG Museum) of the German Anthropological Association (Deutsche Gesellschaft für Völkerkunde, DGV), together with the Museum Fünf Kontinente in Munich.
Its main aims are to support exchange, to explore the possibilities for co-operations, and to discuss strategies for systematizing and institutionalizing research into collection histories and the provenance of collections from colonial times. The conference is funded by the VW Foundation.
Contact
Sarah Fründt
Tel. +49 (0)761 203-96860
Email: sarah.fruendt@ucf.uni-freiburg.de