Studying in Corona times – digital and transnational
Sustainable Gardening
The course Science and Practice of Sustainable Gardening, based in the Environmental and Sustainability Sciences Major, was taught by Dr. Sabine Sané in summer semester 2020. In this seminar, LAS students wanted to find out what "sustainable" means in relation to gardening. For example, does "sustainable" necessarily mean "organic"?
The seminar was designed to be partly theoretical, partly practical. On the one hand, Sabine wanted to teach students the fundamentals of gardening: botany, soil science, hydrology. On the other hand, they were supposed to practice actual gardening during field trips to Sabine's garden. At least that was the plan before the Coronavirus hit.
Fortunately, this had to be modified only slightly: Video conferences replaced the class sessions, and the field trips were taken in groups of two. "The best thing was that it combined theory and practice," says LAS student Lorenz Sachenbacher: "I found it incredibly valuable to be able to put what I learned into practice immediately with my own hands." His classmate Jana Kalmbach adds: "Through practical experience in the garden, we gained a completely different perspective on food we consume every day."
Here you can read an article on the seminar.
(photos by Sabine Sané and Sandra Meyndt)
The student perspective
Anna | Russia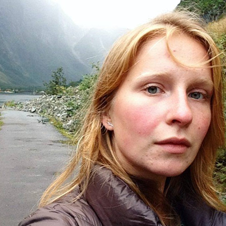 Anna started her LAS studies in winter semester 2020/21. Having already studied and worked in the Moscow dance scene for a few years, Anna noticed how much she missed academic work and free exchange.
Due to the Coronavirus pandemic, she was not yet able to move to Freiburg. Not only was her visa process affected by the pandemic, but so was Anna herself: On the very first day of the LAS welcome week she got sick – a Covid-19 infection. Luckily, she is feeling much better now and would like to move to Freiburg as soon as possible.
First-year LAS student Henrike interviewed Anna on how she is handling the current situation. 
Henrike: Hello Anna, how is it for you to experience the start of your studies now at your desk at home instead of in the lecture hall in Freiburg?
Anna: At the beginning, it was very disappointing. I would have loved to stroll around the university campus and go for a walk in the forest – just to feel the "Freiburg vibe". However, I have to admit that the digital introduction week was very well organized and for a short time, I felt like I was in Freiburg.
I think everyone feels alone under these circumstances. Not being able to visit friends and spend time with them is definitely frustrating. But it will be even nicer when we finally all meet up.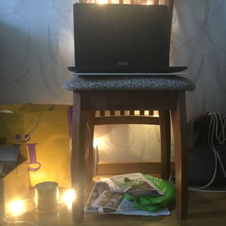 H: What difficulties do you encounter in this unexpected distance learning? Are there fields where you wish you had more support?
A: First, I must note that I have problems with nonverbal communication. On Zoom, I can hear the person I'm talking to and see their lip movements, but I don't feel the person's presence. Sometimes it works, but most of the time it is a challenge. For me, it's a disadvantage because I can do much more with body language. On the other hand, it's easier for me to concentrate in my home office. I don't have to do anything while lectures but listen and think along. Plus, I sit in a quiet room, wear my comfortable pants, and can eat as much garlic and onions as I want.
H: What are you looking forward to most when you can finally come to Freiburg?
A: I'm looking forward to going for a hike in the forest and then warming up with friends over a hot drink in the city.
(photos: private)
Murad | Azerbaijan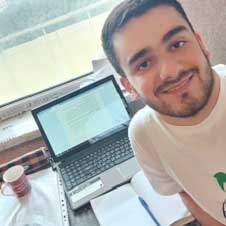 Murad had already received his visa and was ready to depart when the full switch to digital learning was announced. After carefully weighing his options, he decided to study online in his home country to avoid moving during the Corona pandemic. First-year LAS student Henrike interviewed Murad on how he is handling the current situation.
H: How did it feel to start your first semester sitting not at a university auditorium, but at your desk at home instead?
M: It's rather strange. I miss exciting and banal activities: Rushing to the lecture hall after oversleeping, talking to peers in the back row, going to the movies with a group, going to the mensa and taking a walk after the lecture, coming home tired from university... I could go on with the list, I really miss all that! All these little things make university life much more dynamic.
Unfortunately, we have to sit in front of the screen and try to "interact with"/ "get to know" each other. Additionally, in my case, I have another issue - the time zone in Azerbaijan (GMT+4) is different from that in Germany (GMT+1)- which sometimes makes things confusing for me. Anyway, despite all these, I am full of hope that everything will return to the normal soon.
H: What does your workspace look like?
M: I live in a small apartment a few kilometers away from my parents' house. I thought I need a quiet, separate place for my studies. Here I have a balcony and in front of it the Caspian Sea. For me, it is also a good exercise to live alone. I have to get used to managing without my family and doing household tasks like cooking, cleaning, and washing dishes by myself.
H: What difficulties do you encounter in your unexpected distance learning? Are there areas where you wish you had more support?
M: Sometimes I have questions, then I try to get the answers via the WhatsApp chat of my study group. The group members are so nice and answer quickly, but it's still not the same as in real life. Sometimes it's hard to formulate the questions. It's also much easier to get seatmates' attention with words, facial expressions and gestures.
Even in video chat, it is sometimes challenging to understand each other. Sometimes it's the internet connection, sometimes it's the technology. Therefore, my only wish at the moment would be to have other Liberal Arts and Sciences students around me that I can reach without a cell phone or laptop.
H: What are you most looking forward to when you can finally come to Freiburg?
M: Once I am in Freiburg, I will ask a fellow student to show me around the city. We would take photos in front of the most famous sights, which I could send to friends and family - especially to my father, who is a fan of Germany. Afterwards, we would have a big meal, because as we all know, city tours make you hungry. 
EPICUR Interview with Prof. Nandi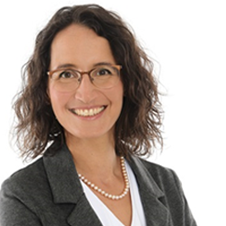 Miriam Nandi, WP3 study track manager for European Identities, has a background in Postcolonial Studies and Anglophone Literature. Before joining EPICUR in spring 2020, she was a researcher and lecturer at the English Department at the University of Freiburg. For EPICUR, she also teaches courses on Europe and Migration.
Q: Ms. Nandi, you have taught two classes for the first round of the EPICUR Study Track European Identities. How did you experience that?
A: I have taught two courses thus far. "Post-Migrant Europe" is the one, I am currently co-teaching with Allard Den Dulk (AUC) and Sabine Rollberg (ARTE) on fictions about migration from all over Europe. I believe EPICUR is unique in the sense that it offers Liberal Arts and Science experiences to a broad range of other disciplines. In my seminars, there are students from law departments and environmental sciences, as well as film and literature students. In addition, they come from diverse European universities with different academic cultures, so even if students come from the same discipline, they might have divergent understandings of that discipline. This mix has enabled and sparked multi-layered discussions you would not have in an ordinary class situation. And I think they – indeed we all – come away from these courses with a better understanding of the topics but most importantly of each other.
I say we, because the diversity of academic cultures and teaching modes was felt equally by the staff. Our co-teaching, in contrast to other collaborations, was born out of coincidence more than long planned partnerships. As EPICUR opens new pathways for teachers to connect across our partner universities and departments, we have the opportunity to form new and unexpected collaborations.
Q: How have the restrictions due to the coronavirus pandemic affected your teaching?
A: Like many other educators, I found the first weeks of digital teaching very challenging. The technical glitches were distracting the students (and myself of course), and it was thus very difficult to focus on content. Also, it is more difficult to establish a sense of trust and community among the students when not being able to meet face-to-face.
But with the tremendous support of the e-learning department, things have now fallen into place and I can even glean some advantages from teaching in a digital setting. One of the highlights for me was that I could teach the course over several European universities, including students from Greece and from France, which brought even more international diversity to our virtual classroom. Of course, virtual mobility can never replace actually living in a different country, but it is a fine alternative under the current circumstances. Also, it is a great opportunity for students who might not be able to afford an ERAMUS year or are otherwise unable to travel (such as students with disabilities or students with family).
Here you can read the full interview with Miriam Nandi on how migration matters to the topic of European Identities.