EPICUR

Towards a European University and a European LAS Bachelor Program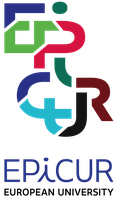 Eight Universities in six countries successfully joined forces as EPICUR (European Partnership for Innovative Campus Unifying Regions) for the groundbreaking EU "European Universities Initiative"  
EPICUR is a pilot for the European University of the future and seeks to explore new ways of sharing learning and teaching. Our focus is on innovative teaching and learning geared to the new generation of European citizens, to face the great societal challenges of the Europe of tomorrow.
At the heart of EPICUR's educational provision is the Liberal Arts and Sciences (LAS) tradition and a firm belief that students and teachers alike benefit from collaborative approaches.


These web pages document our work in progress and are intended as an invitation to be be EPICurious and join us on this adventure in collaborative international higher education!
Get in touch with us with your ideas for Liberal Education based innovation across borders.
An important part of the Work Package 3 is scoping the EPICUR partners for potential collaborations in LAS-based teaching and learning. To this end, the Freiburg WP3 / EPICUR team has put together a Mapping EPICUR Collaborations (curricular and co-curricular) survey. 
Your participation in this survey enables WP3 to 
identify fitting existing offerings,
develop new courses and collaborations,
ensure recognition of EPICUR courses within existing programs of study, and
to connect stakeholders to develop Innovative Learning & Teaching Formats for EPICUR

Join us in this exciting endeavor of international, LAS-based teaching & learning collaboration!
EPICUR staff at UCF
Stefanie Klose
Project Manager and Lecturer EPICUR "Natural and Societal Sustainability Studies"

PD Dr. Miriam Nandi
Project Manager and Lecturer EPICUR "European Identities"
Dr. Steven Randall
Project Manager and Lecturer EPICUR "Track Core"
EPICUR – Mission and Partners
The project's pilot phase features several action programs, including
promoting multilingualism and inclusive governance
implementing innovative Liberal Education based methods of learning and teaching
establishing an interuniversity campus, using a student and staff-centered approach
strengthening and connecting European regions
EPICUR consists of eight partners and provides a European-wide campus for 307,000 students: 
More information on the EPICUR website and the launch of EPICUR in Brussels.