Curriculum

Liberal Arts and Sciences at the University College Freiburg is an interdisciplinary study program that is oriented towards an international student body. It starts with a broad and structured entry into the academic world – especially in the Core in the LAS Foundational Year – and later specializes into four main tracks – the LAS Majors. Thus, it encourages guided specialization and provides you with choice and opportunities to pursue your interests in the Major, and Electives, with Study Abroad Opportunities.
The LAS curriculum is organized in modules. You can find the full description of each module in the Module Handbook. The corresponding courses are published every semester in the LAS Course Catalog.
During their first year, LAS students follow the same curriculum and establish a shared basis of skills and knowledge necessary for the LAS program. From year two onwards, students have a significant amount of freedom in designing their own study program, meaning students' individual LAS trajectories will develop quite differently.
 
Foundational Year
Your LAS starting point is the so-called Foundational Year.
The Foundational Year has four parts: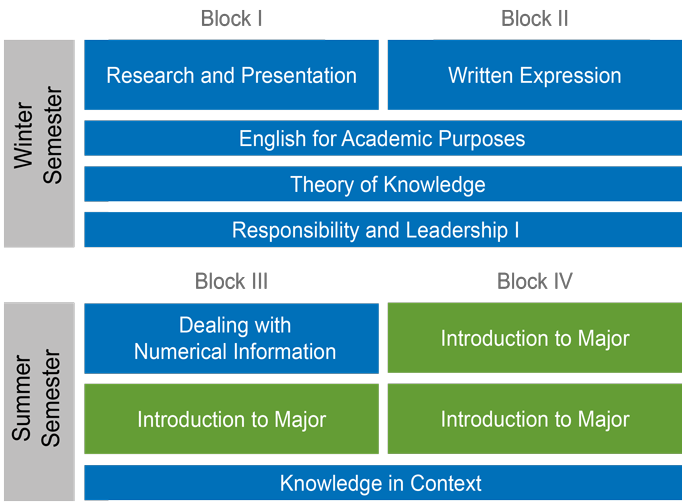 (Please note that the Foundational Year is slightly different for students who follow 
German language classes to achieve the A2 level.) 
1. Academic Key Skills
In the modules "Research and Presentation" and "Written Expression" students develop and sharpen their academic key skills, learn how to independently research and work with academic literature and sources as well as how to present a topic to a particular audience. The starting point for these courses are complex real-world topics such as
Technological Transformations of Body and Mind
Internationalism
Natural Resources and Sustainability
Transformations of the Public Sphere


Students also improve their academic English skills ("English for Academic Purposes") and – in the Summer Semester – learn how to use numerical data for both scientific and non-scientific work ("Dealing with Numerical Information").


2. Perspectives on Knowledge
As a basis for academic and scientific work across disciplines, first-year students take two modules that focus on theories and contexts of knowledge. Here, students are introduced to questions of objectivity, reality, and truth and analyze knowledge in its historical, social, political, and practical contexts. 
3. Responsibility and Leadership I
This part of the curriculum helps students develop their capacities to act responsibly in academic, professional, and personal contexts. It combines academic contributions from a variety of disciplines with personal reflection. 
 
4. Introductions to Majors
In the Summer Semester of their Foundational Year, students are required to follow the Introduction to three of the four LAS Majors. The LAS program at UCF offers the following Majors:
The Introductions familiarize students with the breadth of academic fields and enable them to make a well-informed choice of their own Major.


Academic Calendar
Summer Semester 2017
University Semester: April 24 – July 29 (semester-long LAS courses run according the university semester) (no teaching during university Pentecost holidays)
LAS Block III: April 18 – June 9 (Block III exams may take place during the university Pentecost holidays)
LAS Block IV: June 12 – July 28
LAS Resit Period (resit examinations that require student presence): October 2 – October 27
Winter Semester 2017-18
October Intensive (for 2nd – 4th year students): September 25 – October 6
Welcome Week: October 9 – 13
University Semester: October 16, 2017 – February 9, 2018 (semester-long LAS courses run according the university semester, no teaching during the university Christmas Break)
LAS Block I: October 16 – December 8
LAS Block II: December 11, 2017 – February 16, 2018 (no teaching during the university Christmas break) 
LAS Resit Period (resit examinations that require student presence): April 3 – April 27
Summer Semester 2018
March Intensive: March 19 – March 30
University Semester: April 16 – July 21 (semester-long LAS courses run according the university semester, no teaching during university Pentecost holidays)
LAS Block III: April 9 – May 18 (Block III exams may take place during the university Pentecost holidays)
LAS Block IV: May 28 – July 21
LAS Resit Period (resit examinations that require student presence): tba