Major: Governance


Governance studies what happens when many people live together and depend on each other. It is about the negotiation and achievement of common goals, such as peace, prosperity, and happiness. The Major Governance is different from a program in political science or in law because it covers a broader range of social science disciplines. It is oriented around three central areas of inquiry: communities, states, and markets.
The following chart is an overview of the basic and advanced modules in the Governance Major: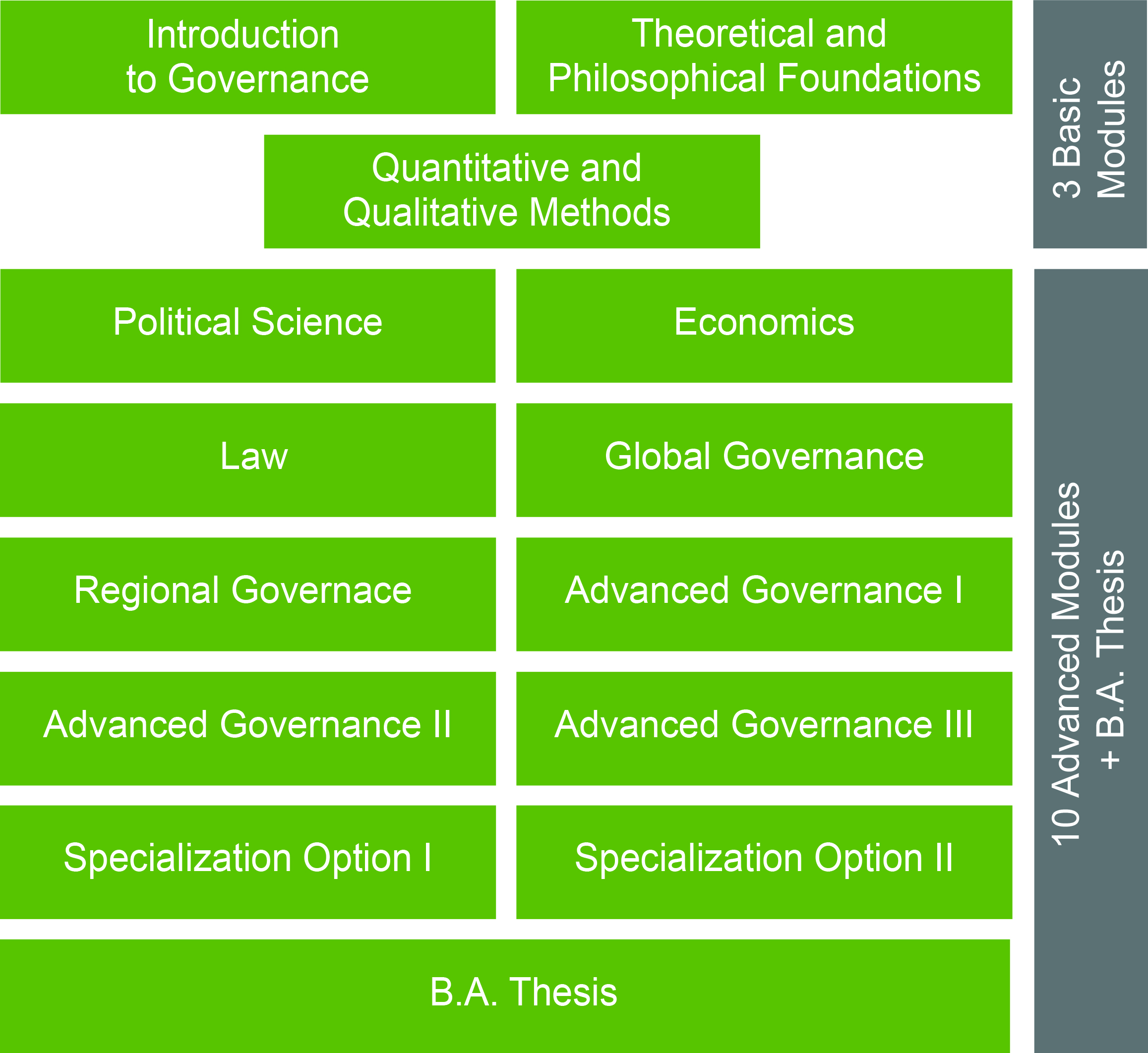 The chart provides an overview of the Major composition, but the modules are not necessarily listed in the order in which they will be taken. You can find the full description of each module in the Module Handbook. The basic and advanced courses we offer in the above-mentioned modules are listed in the Course Catalog.
What do LAS students do with their Governance Major after Graduation?
---

Full description
Students choose their Major after the completion of the Foundational Year. The Governance Major draws mainly on social and political sciences in answering the complex questions about communities, states, and markets: political science, including political philosophy, political theory as well as comparative politics; international relations, in their political, economic, and cultural dimensions; economics, including international, globalized economics; law, national and international, including the workings of international organizations and courts; as well as sociology, with the focus on political sociology and social theory.
The main building blocks of the Major Governance are courses on the theoretical bases and methods of social and political sciences, and introductory courses in law, economics, and government. With this background, students will be able, from their second year of studies, to choose courses of their liking to specialize in one of these areas. Many of the courses offered will combine several social science disciplines as well as insights from the humanities, life sciences, and environmental sciences. Thus, students may study the governance perspective on environmental changes, or combine insights from history, international relations and sociology in studying diplomacy or the dynamics of peace and conflict.
In general, the Major is structured in the way to enable students to understand crucial current problems and, on this basis, to make relevant and insightful contributions to dealing with them. On the basis of a student's personalized Governance curriculum, carved out with the help of an academic advisor, the student will be prepared for a wide range of Master's programs within the social sciences, particularly for interdisciplinary programs.

For more information about this Major, please contact Dr. Liudmila Mikalayeva: liudmila.mikalayeva@ucf.uni-freiburg.de