Major: Life Sciences


The Major Life Sciences is focused on human beings and the conditions under which they interact with their physical environment and other human beings. Specifically, the Life Sciences Major explores questions about the structures and functions of the human body and the human mind, the interaction with the environment, and also the interface between biological and technical systems. We consider the human being a researching subject as well as a subject of research. The Major in Life Sciences will give you a strong research-oriented foundation in the natural sciences and relate this foundation to 21st century challenges. 
The following chart gives you an overview of all basic and advanced modules in the Life Sciences Major: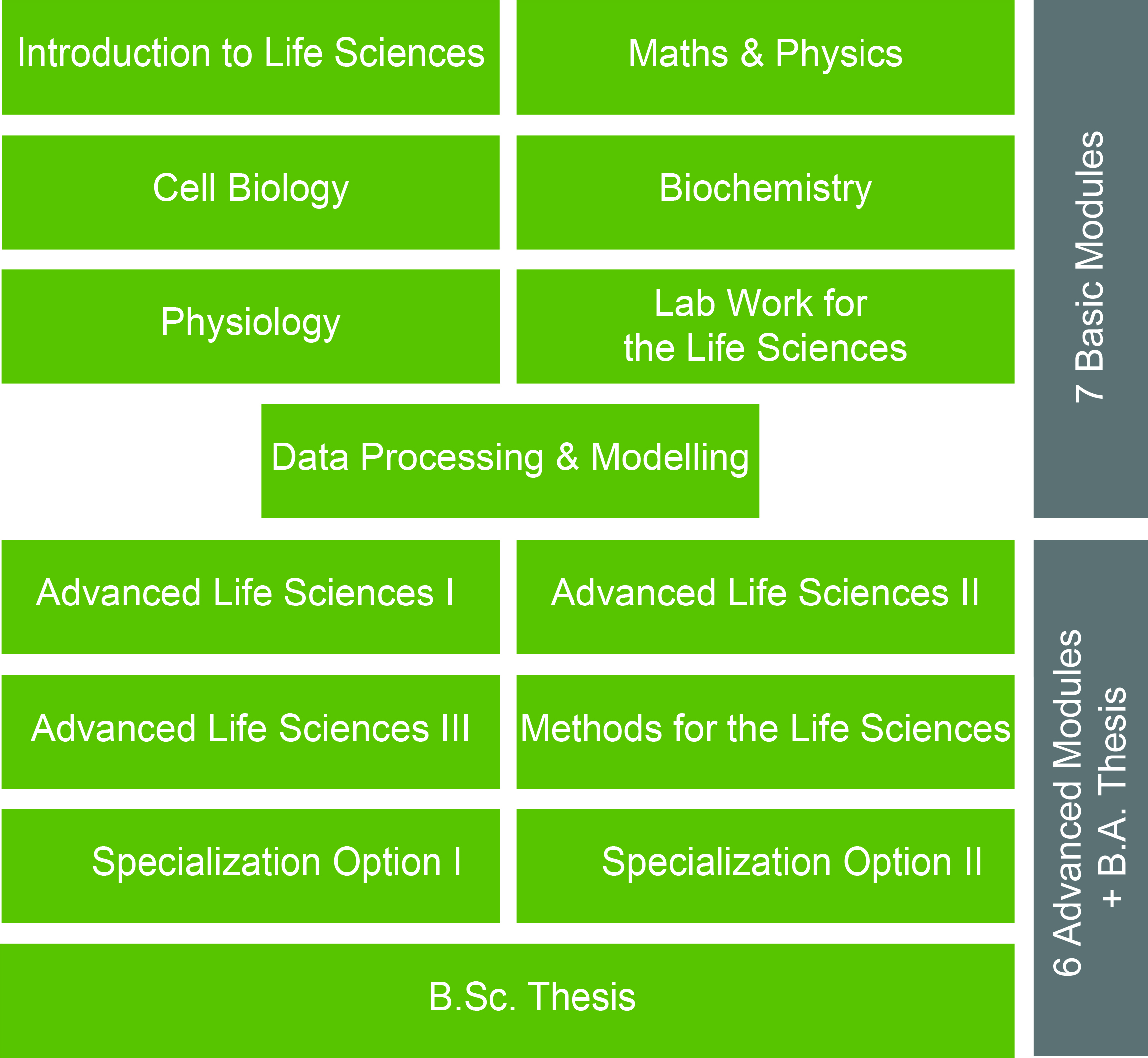 The chart provides an overview of the Major composition, but the modules are not necessarily listed in the order in which they will be taken. You can find the full description of each module in the Module Handbook. The basic and advanced courses we offer in the above-mentioned modules are listed in the Course Catalog. 
What do LAS students do with their Life Science Major after Graduation?
---

Full description
Students choose their Major after the completion of the Foundational Year. The Life Sciences Major comprises a variety of disciplines including biochemistry, cell biology, physiology, immunology, neurosciences, the behavioral and cognitive sciences, as well as biotechnology and bioengineering. This variety requires a focus for the Life Sciences curriculum; at University College Freiburg this is the human being.
The Major's epistemological approach emphasizes the scientific method as the currently dominant way of knowledge acquisition in the sciences. The curriculum thus includes courses that familiarize students with observational and experimental methods and enables them to conduct a first research project in the sciences. The Major also purposes to provide a broader perspective on the Life Sciences themselves and their role in society, politics, and culture. Within the context of the LAS program, this approach provides the opportunity for joint, interdisciplinary courses and projects with the other Majors.
Students successfully graduating from the Liberal Arts and Sciences program in the Major Life Sciences finish the program with a bachelor thesis and are awarded the degree Bachelor of Science. This formally enables them to apply to a variety of Master's programs in the natural and behavioral sciences in Germany and abroad. Depending on their research interests and additional requirements set by the aspired Master's program, students are encouraged to choose courses in the modules Advanced Life Sciences, Specialization Option, and the LAS Electives area that fit with their academic career plans. Students are expected to personally take responsibility for these plans; however they are supported and advised in their course selection by the course coordinator.

For more information about this Major, please contact Dr. Simon Büchner: buechner@ucf.uni-freiburg.de