Student Activities


LAS students form an active community and organize many social and extracurricular activities and projects. This reflects the wide range of their interests and engagement and contributes to the familiar atmosphere at UCF. The UCF Students Council, the LAS student association, serves as a platform for the interest groups (of the LAS Majors) and various student committees and projects:
LESC is a series of student conferences for which LAS students and experts from throughout Europe get together and discuss current Liberal Education developments. The 2nd LESC took place in Freiburg in May 2017 with a focus on: A complex world needs complex thinking. The 3rd LESC took place in Utrecht, the Netherlands, from May 10 to May 13, 2018. And, in 2019, students from around Europe met in Berlin May 2-5, 2019 for the 4th LESC.

The 2019 LESC also featured the launch of angLES, a "trans-european, inter-university" liberal education students journal, a project designed to continue spreading and sharing ideas within and beyond the circles of liberal education. This journal provides a platform to extend the conversation about liberal education beyond the conference, as well as providing a close network for students with its imbedded peer-review process.
LAS is not an Arts Program. However, students are very creative also beyond their academic endeavors. The Arts Liberated Committee is dedicated to pushing academic boundaries through artistic creation. Projects so far have been:
May 2017: "An Inspector Calls", written by J.B. Priestley.
February 2018: a stage adaption of "Lord of the Flies", by William Golding; the Badische Zeitung, uniCROSS, and fudder reported on the play.
June 2018: "The Lost Writings of Molu Safelu", written by themselves. uniCROSS reported on the play.
February 2019: "Waiting for Dogot"
July 2019: "Das Jubiläum" fudder reported on the play.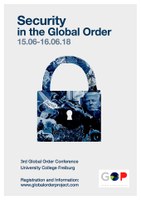 The Global Order Project is a network of student groups and experts studying issues of Global Order in various disciplines. The project was established under the patronage of the former chief prosecutor of the ICC Luis Moreno Ocampo.

The Global Order Project Team Freiburg has organized various talks, workshops and excursions on topic like: Good-Bye Hegemony! Power and Influence in the Global System or From Unilateralism to Multipolarity: The UN and De-Westernization and hosted the Global Order Project Conference 2016: Mobility and Identity in a Globalizing World
The latest major activity was the Global Order Conference 2018: Security in the Global Order.

The Jack is an English magazine run and published by UCF students. Each Jack issue explores one theme in an interdisciplinary and creative way. Contributions adopt political, scientific, social, philosophical, personal, cultural or alternative perspectives and take divergent stylistic forms. In this spirit, the magazine is an expression of the philosophy of the Freiburg LAS community that embraces academic, social, and cultural diversity.
From April 13-15, 2018, the 1st European Liberal Education Student Symposium took place at the Kandelblickhütte in the Black Forest. 37 Liberal Education students from eight European universities discussed: Education F(r)ees or Freeing Education? – The Interdependencies Between Liberal Education and Politics in Theory and Practice. The idea of a small-scale extra-curricular exchange between European Liberal Arts colleges was taken up in 2019 at an LESS in Tilburg, April 12-14, 2019.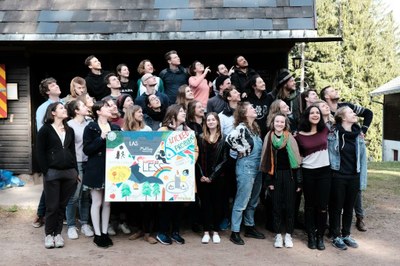 The Intense Ccoomiite is the fun-only committee at UCF and is committed to providing the student body with intense bonding experiences.
In-tents, the camping branch of this pony yard, organizes one weekend trip per semester to beautiful places with all lasers throughout the cohorts. Dancing, cooking, swimming and chilling together enables everyone to make new connections to other people from UCF and strengthens the LAS community.

Intänz, the party branch of this intense committee, organizes one party-ish event per semester, open for all to come and party with us. This outreaching factor enables us lasers to get in touch with students from other faculties but also to people in Freiburg that are not part of the university bubble.
Interested? Get in touch with Intense / In-tents / Intänz at ucf.intensity@gmail.com!
Archive
UCF Lecture Series: Beyond the Crisis – Civilians in Armed Conflicts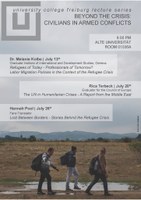 The UCF Students Council has organized a lectures series on cilvilians in armed conflicts and refugees in 2016. External lecturers have been invited to present their perspective and expertise in the following areas and lectures: